Toledo brings in top-ranked class in MAC for second straight season
2/7/2018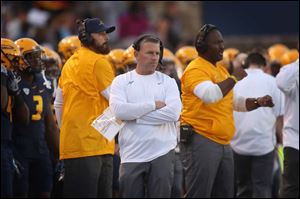 Jason Candle and Toledo have added 10 players during Wednesday's signing day.
For the second straight season, the University of Toledo football team has secured the top recruiting class in the Mid-American Conference.
After signing 18 players in the early signing period in December, the Rockets signed 10 more players during Wednesday's signing day.
The 28-man 2018 class, which is ranked No. 65 nationally by 247Sports.com, is deep, diverse, and talented. While UT coach Jason Candle knows recruiting rankings aren't necessarily the end game, he knows Wednesday represents a vital first step in developing a new wave of standout players in his program.
And as long as recruiting classes are being ranked, he and his staff don't mind being ranked at the top of the conference.
RELATED: National Signing Day hub | BRIGGS: Candle, staff get job done
"It's not something we necessarily shoot for, but if they are keeping score, we want to win," Candle said of leading the rankings compiled by 247Sports.com. "I think that's just the initial part of what this thing looks like. You've got to recruit them, but you also have to keep them here and you have to develop them.
"We should feel really good about it because we have a really tremendous class with a lot of players that can help us go to where we want to go."
Toledo's 10 signees Wednesday were offensive lineman Parker Bisek, defensive end Melvin Johnson, defensive tackle Derrius Mullins, linebackers Jackson Barrow, D'Andre Ragin, and Evander Craft, defensive back/wide receiver Jalynn Williams, defensive back Jordan Hendy, and long snappers CJ Nossaman and Josh Tilque.
The first thing about this class that stands out is the emphasis on bolstering the offensive and defensive lines and creating quality depth on both fronts.
Toledo signed six offensive linemen — Tyler Long of Springfield High School as well as Sam Baker, Bisek, Lavel Dumont, Conor Head, and Nick Carey. The Rockets also inked seven defensive linemen in Jamal Hines, Jake Hudson, Desjuan Johnson, Melvin Johnson, Mullins, Devan Rogers, and Terrance Taylor.
"I'm a firm believer that if you don't win the line of scrimmage, you don't have the opportunity to win the football game or have a successful team," Candle said. "So you see heavy numbers on the offensive and defensive line again this year. Both line coaches did an awesome job with that."
Two standout quarterbacks in Carter Bradley of Jacksonville, Fla., and Cross Wilkinson of Wheeling, W.Va., were signed during the early signing period.
"We have two really good quarterbacks in this class, who both can be special players here at Toledo," Candle said. "Much like the guys that have been successful here in Phillip Ely and Logan Woodside, they have to get in here and learn what we do. Our staff has to do a really good job of learning about them. We can't be so stubborn in our approach to say this is our system and you have to adapt to us. We have to adapt to them a little bit and do a great job of highlighting the positives and hammer in and focus on what we feel their flaws are."
Candle said he and his staff focus on the local kids first in the recruiting process and then expand out to a more regional approach before widening to a national focus. He said winning a MAC title this past year has given a little bit more notoriety to the program on the national level.
Toledo's class features nine players from Ohio, but 12 different states are represented with six players in the class coming from the state of Florida.
"It's much more fun to go on the road and recruit and someone can say, 'Hey, we watched your championship game,' " Candle said. "It's definitely an advantage when you go out and can talk about playing for championships and the stability of the program. Obviously we have a tremendous product to sell with our facilities and our stadium is first-class. We are at a very good place and we should be recruiting at a very high level in my opinion."
Candle is excited about what this class can add to the existing foundation, and he wouldn't be surprised if some of the 28 members can push for immediate playing time.
"I see everybody on this list coming in and being able to compete," Candle said. "Now are they able to do that? Their play has to answer that. That's a question for them. Each and every guy on this list has some characteristic that I think would add a little bit of a different twist to our team next year."
Contact Brian Buckey at bbuckey@theblade.com, 419-724-6110, or on Twitter @BrianBuckey.