University of Toledo head coach Tod Kowalczyk gives instructions against Northern Illinois. Kowalczyk and his staff have embraced the growing trend of analytics in how they game plan and scout opponents.
BLADE/JEREMY WADSWORTH Enlarge
As University of Toledo assistant men's basketball coach Kyle Barlow sits in his office at his computer, he admits he can get lost in the statistics and the metrics and the charts and the data for hours.
Whether preparing a detailed scouting report or simply looking up a random stat on a whim, there are numbers for almost anything you could possibly want to know through analytics services such as Synergy Sports Technology and KenPom.com.
When Barlow was a graduate manager at Michigan, coach John Beilein used to say, "We can know anything we want to know, but we can't know everything we want to know."
With analytics and advanced statistics, there are now countless ways to quantify what the average fan, coach, or player sees on the court.
"We coach to it," UT coach Tod Kowalczyk said. "We are firm believers that the analytics are an important part of the game and an important part of the evolution of technology in basketball. I still am a firm believer in the eye test, No. 1. But if you don't look at the analytics and study them and try to get better, I think you are stuck in a rut, and stubborn, and not evolving as a coach.
"My staff does a great job of studying the analytics, and showing where we can get better and how we can expose opponents. The old way of just looking at a stat sheet doesn't tell the true tales of the game."
As Barlow scrolls through his computer he demonstrates how quickly he can find information on Toledo's next opponent, Ball State.
Want to know Ball State's points per possession in transition? A few clicks and he is able to show that the Cardinals have had 314 possessions in transition and turned them into 346 points, good for 1.102 points per possession. Synergy shows that that mark is in the 74th percentile nationwide.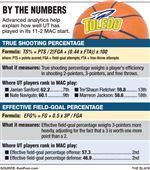 THE BLADE
Enlarge | Buy This Image
What's more, click on a link and you can watch film of all 314 transition possessions.
It's easy to see how Barlow can get lost in the numbers. He says his focus in dealing with the analytics and advanced stats is coming up with an offensive game plan by compiling a scouting report of the opponent's defense.
As Barlow navigates Synergy, he quickly sees that Ball State — which beat UT in Savage Arena on Jan. 30 — is ranked very low in transition defensive statistics, which stands out to him. What does this mean?
"Every other statistical category they are really good at — top four or five in the league in every single one," Barlow says. "Without looking at anything else, just thinking back to our first game, it's because of how they offensive rebound. If you send three guys to the glass to offensive rebound, you only have two guys back. If you send four guys to offensive rebound, you only have one guy back."
Diving into Toledo's offense, the Rockets are the top-ranked team in the Mid-American Conference in adjusted offensive efficiency according to KenPom.com. Their mark of 113.9 ranks 50th in the country. In conference games only, Toledo's adjusted offensive efficiency is even better at 116.7, which also leads the MAC.
Barlow explains that this is partly because of the way Toledo executes in pick-and-roll or pick-and-pop situations. In sorting for conference players and accounting for scoring and passing off of the pick-and-roll, senior Tre'Shaun Fletcher is at the top of the conference list, while Jaelan Sanford is ninth in the conference.
"People say Toledo's offense is going to be efficient," Barlow says. "KenPom says that we are efficient. But why are we efficient? Well, we have two guys who are really good at scoring off ball screens — with one in Tre'Shaun Fletcher who is really good at scoring, and also really good getting other people involved out of them too."
Kowalczyk said he prefers to examine any kind of statistics in five-game increments. How good was an opponent or a player in their last five games?
"The last five games are a lot more telling about how a player or a team is playing versus season stats," Kowalczyk said. "It's not fair to look at season stats. Someone may not have played much early on, or his game gets better or worse throughout the season. Five-game stats are important to our program as far as defensive strategy."
As far as advanced stats, for Kowalczyk, a few stand out. One of those is effective field-goal percentage, which weighs 3-pointers as well as 2s. In conference games, Toledo is second offensively and defensively in terms of effective field-goal percentage at 57.3 and 46.9 percent, respectively.
"Points per game is dictated by how many possessions there are," Kowalczyk said. "Effective field-goal percentage is so much more telling because it weighs the 3-point vs. the 2-point field goal. That's a huge part of our defense is that we want our opponents to take tough 2s and we want to eliminate open 3s and eliminate layups and dunks. The tough 2s are what you want to gear your defense toward. Scheme-wise and philosophically, we coach to that."
With all of this information readily available, Barlow said he only foresees the trend toward analytics in college basketball growing.
"A lot of coaches are starting to buy into it," Barlow said. "In my opinion, it all kind of started with Butler and Brad Stevens. He started in an analytics role and moved up to head coach. From then on, it's kind of gained more and more steam. I think as we go along, the more and more traction this is going to get. It's a lot. There's a lot of stuff out there."
Contact Brian Buckey at bbuckey@theblade.com, 419-724-6110, or on Twitter @BrianBuckey.
Guidelines: Please keep your comments smart and civil. Don't attack other readers personally, and keep your language decent. Comments that violate these standards, or our privacy statement or visitor's agreement, are subject to being removed and commenters are subject to being banned. To post comments, you must be a registered user on toledoblade.com. To find out more, please visit the FAQ.