MUNCIE, Ind. — As the final buzzer sounded Feb. 13 inside Savage Arena, Tod Kowalczyk strode toward the Ohio University bench to shake the hand of coach Saul Phillips.
The Rockets had just defeated the Bobcats 82-74 with relative ease.
Preparations for Saturday's game at Ball State begin in earnest. After a postgame press conference and exchanging a few pleasantries with fans, Kowalczyk will rewatch the entire OU game before his head hits the pillow.
The big story this night is a knee injury suffered by UT starting point guard Marreon Jackson. His leg buckled and he fell to the court in the second half before being carried to the locker room. Kowalczyk told reporters after the game he didn't think it was a significant injury, a message that was confirmed the next day after Jackson underwent an MRI.
But it could alter the game plan. During the next four days, there will be classes, film sessions, practices, walkthroughs, and bus rides to and from middle-of-nowhere Indiana. A Blade reporter and photographer were granted behind-the-scenes access, documenting the rhythms of a college basketball road trip.
WATCH: Inside a road trip with the UT men's basketball team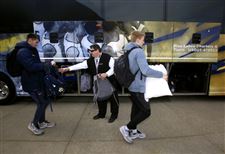 Tad Dunlap with Blue Lakes Charter, center, collects bags to stow for Nate Navigato, left, and Jaelan Sanford before they board the bus on the way to Ball State.
Blade/Kurt Steiss Enlarge
Hitting the road
It's Friday, Feb. 16, and the Toledo men's basketball team is more than 24 hours away from playing Ball State.
The Rockets owe the Cardinals a dose of revenge after they ended UT's seven-game winning streak Jan. 30. Kowalczyk said it was the only game all season in which Toledo just didn't have it.
Inside an auxiliary gymnasium in Savage Arena, UT is in the midst of a 90-minute practice before departing for Muncie. Defense is one of the main themes, and it isn't going entirely well for the team's first unit.
Walk-on point guard Vicpatrick Harris is making almost every 3-pointer he hoists. A series of missed rebounds also upsets Kowalczyk, who shouts, "I need a guard to clean up on the glass other than Tre['Shaun Fletcher]."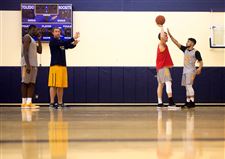 Associate head coach Jason Kalsow, second from left, leads part of the men's basketball practice at the University of Toledo on Feb. 16. Later that day, UT departed for its road game at Ball State on Feb. 17.
Blade/Kurt Steiss Enlarge
Practice ends with smiles, Toledo brimming with confidence, and even a stray "Dilly, Dilly!" UT enters the Ball State game at 19-7 overall and 11-2 in the Mid-American Conference. A MAC West championship and bye in the conference tournament feels inevitable.
A Blue Lakes charter bus with "Toledo Basketball" emblazoned on the side sits in front of Savage Arena, awaiting its cargo for the three-hour drive to Muncie. Driver Tad Dunlap, a Defiance native, is in his first season chauffeuring the Rockets around the Midwest.
"Coach said, 'I want him,' and I said, 'All right. Cool,'" Dunlap relays. "These guys take care of me."
The team's previous driver, who retired before the season, became like family to the Rockets — so much so he accompanied the team on a road trip earlier this season as a guest. What might seem like a minor detail to some keeps Brian Jones up at night.
The associate athletic director for sports medicine, who's worked at UT for 21 years, is tasked with planning a majority of the logistics. And the bus driver's personality is a component that's not overlooked.
"Does he know where he's going? Is he going to get on the microphone and talk about bus safety?" Jones says. "That's when coach looks over his shoulder and gives me a look like, 'What's going on?'"
There are no horror stories on this day, as the food arrives on time, the bus is loaded in an orderly fashion, and traffic flows smoothly between Toledo and Muncie.
A meal prepared by Boston Market is sitting on each player's seat before he steps on the bus. Inside the serving container are ribs, chicken, macaroni and cheese, corn, cornbread, and a chocolate chip cookie. Director of basketball operations Justin Ingram and head manager Deshaun Cole coordinate the meals, with help from manager Evan Calendine.
On Wednesday, two days before Toledo departed for Ball State, Ingram and Cole started planning the upcoming trip.
"At home, they typically like to eat at local restaurants that are friends of the University of Toledo community," said Ingram, a 2007 UT graduate who played for a decade in Europe.
Joining the Rockets on this trip are Howard and Casey Feldstein. The Toledo natives aren't strangers — this is the sixth road trip they've been on in recent seasons. The Feldsteins — Howard is 61, son Casey is 27 — purchase the trips at the Rocket Roundball Social in October.
"It's awesome, a really cool experience," Casey said.
Howard's father is 91 and a 50-year season ticket holder. When the Feldsteins aren't traveling with UT, they're watching road games on the computer. When Kowalczyk gets on the bus and notices them he asks, "Aren't we undefeated with you guys?"
"4-1," Howard responds.
"Well, 5-1 sounds better," Kowalczyk said.
As the bus ambles across U.S. Route 24 in western Ohio, the movie American Made begins playing on multiple television screens. Several players request The Hangover, but they are overruled.
Aside from Tom Cruise's voice over the speakers, noise is kept to a minimum.
Most of the players stretch out across their seats and listen to music.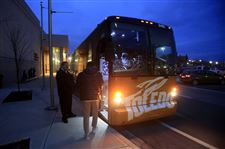 Tad Dunlap with Blue Lakes Charter makes sure everybody boards the bus before heading to team dinner in Muncie, Ind., on Friday night.
Blade/Kurt Steiss Enlarge
Arrival in Muncie
Just before 4:30 p.m., the bus pulls into the Courtyard by Marriott Muncie at Horizon Convention Center. One by one, coaches and players disembark and enter the lobby, where room keys are distributed and players barely make any noise as they walk to the elevators.
The first order of business for junior forward Nate Navigato is to unpack his Xbox. It's a must on road trips, making the room shared by Navigato and junior guard Jaelan Sanford a popular hangout spot. But not everything always goes according to plan.
During the season's first MAC road trip to Buffalo, the Xbox was plugged into the TV when it fried.
"We smelled smoke," Sanford said.
"I was like, 'Oh, my gosh,'" Navigato added.
In an unimaginable coincidence, it was the final day of the Xbox's warranty, so Navigato had a free one shipped his way. Life on the road was rescued.
While Navigato and Sanford indulge in Xbox — Fortnite is the game of choice — a bulk of their teammates relax in their rooms and some opt for school work. Because the game falls on a weekend, school is on the backburner. But during weeknight trips, textbooks are more popular than Xboxes.
"I get a lot of work done on the road because you have so much downtime in the room," junior forward Taylor Adway said.
The planning for road trips begins in the summer, after the schedule is released. Jones' first step is securing hotels, buses, and airplanes. They book 15 or 16 hotel rooms per trip, depending on who's included in the traveling party.
Jones says the only time he gets nervous is when UT travels somewhere he hasn't been. Otherwise, he's at ease for duration of the trip. That doesn't mean things always match the itinerary, however.
"I could write a book," Jones said. "You never know. Sometimes they get it, sometimes they don't. I've had hotels say they are fine with a late checkout, and then they say we need to leave by 2. And I've flat-out told them, 'We aren't leaving.' Or you think you have a decent place and you pull in and half the hotel is under construction and they didn't tell you. We've had our share of issues — fire alarms getting pulled at 3 in the morning. You just deal with it."
Two hours after arrival, it's already time for dinner. Ingram usually seeks out the best restaurant in town, but tonight's destination is Ruby Tuesday — or maybe that's the best restaurant in Muncie. Options were limited, Ingram said, because it's Friday night.
Pasta and barbecue are two favored menu items when scouting out restaurants. Earlier in the week, Calendine took orders so the food would be ready soon after arriving.
As the Rockets walk to a room in the back of the restaurant, a father tells his young son while pointing to Jackson, "That's the point guard." The team occupies several tables and booths. Salads and drinks are sitting at each place setting, and meals are delivered with precision. In all, UT spends 32 minutes at Ruby Tuesday.
Someone who's absent from dinner is Kowalczyk. He doesn't eat with the team, choosing instead to dine at the hotel.
"They relax more if I'm not there," said Kowalczyk, who opted to watch the Bowling Green-Buffalo game.
"He definitely gives us our space," Sanford said.
"Which is nice," Navigato added.
During the game's telecast, one of the broadcasters fawns over Kowalczyk and notes the UT coach is probably tuning in. He's correct. Kowalczyk also walked for an hour on the treadmill. Assistant coach Kyle Barlow took a jog.
There's no Friday shootaround, because Ball State's Worthen Arena is playing host to a men's volleyball game. And there won't be a Saturday morning shootaround because it would have required an early wake-up call.
On the ride back to the hotel, Dunlap is annoyed by a young kid who continually prank calls him pretending to be Marco's Pizza, which draws a hearty laugh from the players.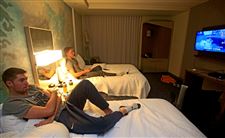 Jaelan Sanford stays focused while playing 'Fortnite' on the Xbox that he and his roommate, Nate Navigato, brought to the hotel in Muncie.
Blade/Kurt Steiss Enlarge
Hotel life
NBA all-star weekend festivities are on most television sets Friday as players lounge in their rooms. When the conversation is steered toward road trips, the consensus is players enjoy them.
"Every day is the same thing in Toledo, so it's nice to get away," Adway said, noting the hotel beds are comfortable, an opinion shared by others. He also likes taking advantage of the hot tub.
Sophomore guard Justin Roberts lives in a dorm room on campus, so not only does a hotel bed provide comfort, the room is also devoid of noise.
"I like to get away," he said.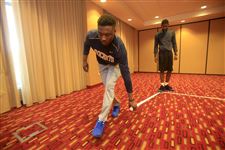 Head managers Deshaun Cole, front, and Brandon Jackson lay down tape markings similar to a basketball court so the team can walk through plays in the hotel ballroom prior to the game against Ball State.
Blade/Kurt Steiss Enlarge
"I enjoy it," Navigato added. "I think it's cool to see other places and be somewhere different. We get to stay in a nice hotel for free. It's fun."
For Fletcher (Colorado) and Willie Jackson (Missouri), transfers from Power Five programs, life on the road in the MAC is a million miles away from chartered planes and some of the sport's most famous venues.
"It was definitely an adjustment," Fletcher said. "But if you think about it, you probably sit on the plane for two or three hours at a time and you're on the bus two or three hours at a time. The five-hour bus rides to Buffalo and NIU suck, but as long as we get there nice and safe, it's all good."
Saturday's game is at 2 p.m. The coaching staff prefers players be in their rooms by 10 p.m. and get to sleep at a reasonable time. But there is no bed check or lights out. Trust is UT's policy.
"Our guys are real good character guys," Ingram said. "They know what it takes to be successful. We trust them to be in their rooms at a certain time. We don't really need to do room checks."
So, have players ever snuck out?
"Snuck out? Probably," Sanford said. "Got in trouble? No."
Game day arrives
Players have a 9:30 a.m. wake-up call, three-and-a-half hours after Kowalczyk awakes. By 8 a.m., he's already worked out. This morning would provide time for Kowalczyk to spend time with family members, but his son's basketball game prevented them from coming on the trip.
They join the team as often as they can, and Kowalczyk encourages assistants and other staff members to bring their wives and children. Years ago, he heard Duke coach Mike Krzyzewski say he wanted his players to see him as a dad first, so he made his family a central part of his program.
"That always stuck with me," Kowalczyk said.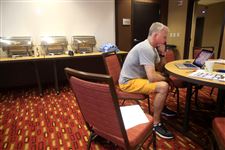 Head coach Tod Kowalczyk studies film before breakfast at the team hotel before the team's Feb. 17 game vs. Ball State.
Blade/Kurt Steiss Enlarge
In a first-floor ballroom, Kowalczyk and UT assistants and staffers are seated around multiple tables. Kowalczyk is reviewing scouting reports on Ball State and the game plan, while everyone else watches film on their computers. But Ball State isn't the subject on the screens. Coaches already are looking ahead to Eastern Michigan, Central Michigan, and Northern Illinois — the Rockets' next three opponents.
"The hay's in the barn," Kowalczyk said.
During the scouting process, UT pays close attention to the opponents' previous five games. And coaches want to see how the team performs in the environment they'll face against the Rockets. In Ball State's case, they'll look closely at how the Cardinals play at home.
KenPom and Synergy stats are an important resource for UT, which values analytics.
"He's the best," Kowalczyk said of Pomeroy.
On this day, the Rockets will script their first half and set rotations for each media timeout. Once the players appear at 10 a.m., associate head coach Jason Kalsow conducts a walkthrough in a ballroom with the floor taped to mimic a basketball court. They review offense and defense, with an emphasis on slowing Ball State point guard Tayler Persons and preventing the Cardinals from pounding the ball inside.
"Justin, I don't want to tell you the entire game — deny him 94 feet," Kowalczyk tells Roberts. "Let's have some major pride in our special teams today."
Fifteen minutes later, it's time for breakfast. The Rockets go through four serving trays each of eggs, hash browns, french toast sticks, and bacon and sausage. Jones, a veteran of the road, alerts the serving staff the french toast sticks will go quickly and to have backup ready.
During breakfast, the managers recount a story from the previous night when they stripped the bedding off a fellow manager's bed. The unfortunate target was none too pleased with the incident, which was the second time such an event occurred on a road trip. It elicits a loud guffaw from the coaches, who know pranks are part of the experience.
As Kowalczyk enters the elevator to return to his room, he tells a reporter the buses depart at 12:15 p.m.
"We'll leave your ass if you aren't down here," he said.
Inside room 5133, a fifth-floor suite, Jones begins taping ankles. It takes 30 minutes to tape each player. The work desk in his room acts as a treatment table. The objective is to prevent ankle injuries. Jones said the tape takes the severity down one grade.
He strikes up a conversation with each player. Roberts is quiet and Jones asks why. "I'm focused," he responded. Jones tells Navigato he senses 20 points and eight rebounds in this game, which brings a smile to the junior forward. College GameDay is on the TV, drawing a question that can't be answered: Who's the Texas Tech head coach?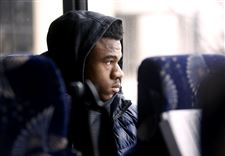 Freshman guard Dwayne Rose, Jr., looks out the window of the bus before it embarks for the arena on game day.
Blade/Kurt Steiss Enlarge
Time to play
The bus starts filling up at noon, 15 minutes early. After a two-mile bus ride through Muncie, the Rockets arrive at Worthen Arena about 90 minutes before tipoff.
As the team goes through warmups, the arena begins to fill up. A victory would clinch a share of the MAC West championship. Toledo files back into the locker room 28 minutes before tipoff, where they'll remain until the 18-minute mark. It's mostly quiet, with a few song lyrics being uttered. Several packs of gum sit on a table just inside the locker room door. Players and coaches take pieces as they enter the locker room.
Kalsow goes through a brief cram session with the team one final time, highlighting UT's defensive objectives, before Kowalczyk addresses the Rockets.
"If we come out of this game plus-1 on the glass and have 10 or less turnovers, they cannot beat you," he said. "Trust your teammates. If somebody misses a pass, go right back to them. If somebody misses a post move, go right back to them. Let's just make plays. We have good damn players. We're playing for a championship ring today."
When the team exits the locker room, members recite Ric Flair's famous "limousine-riding, jet-flying, kiss-stealing, wheelin' dealin' son of a gun" speech complete with a chorus of "Woos!"
All the confidence and visions of championship banners evaporate quickly. Ball State scores the first 10 points of the game, and Sanford, who's acting as the team's point guard because of Marreon Jackson's injury, is called for two offensive fouls in the opening minutes.
Both calls come after Sanford passes the ball on a drive. When he's whistled for the second foul by official Scott Siville, Kowalczyk erupts in a minutes-long tirade.
Siville's Twitter bio reads, "I'm called a Zebra by some, but blind by most." On this afternoon, Kowalczyk probably would agree with the blind assessment.
Toledo loses 99-71.
"You stayed together under difficult circumstances," Kowalczyk tells his team in the locker room. "You gotta be able to deal with it. You got that? You gotta be able to bounce back, and tonight you didn't."
Persons is a flamboyant, cocky player who's drawn the ire of opponents for his bad-boy style. He scored 16 points against the Rockets in a win at UT and 18 on this day. In the two games, he shot 14-of-32 from the field.
"Say what you want," Kowalczyk said, "but he has kicked our ass twice."
The bright spot on an otherwise forgettable afternoon is Fletcher's leadership, which Kowalczyk raves about. On the court and during timeouts, the graduate transfer continually was positive with teammates and urged them to stay the course.
"Championships are not easy to win," Kalsow said. "It's going to be difficult. The practice we had the other day — that was refreshing. Keep that going, and you're going to win a championship. This is just one road bump."
It's a painful setback, but the Rockets still hold a two-game lead over Ball State. Three nights later, it's trimmed to one game after the Cardinals defeat Northern Illinois and Toledo loses at Eastern Michigan.
Food orders from Mancino's are on each seat as the players and coaches trudge to the bus. Cole recites a story from a previous game when each order was correct, except the restaurant forgot Kowalczyk's food. The coach wasn't bothered, though, and found something to eat.
"That was scary," Cole said. "I'm glad we won that game."
The bus pulls out of Worthen Arena 20 minutes before the scheduled departure. There is no movie on the drive back to Toledo, only snowy landscapes through the windows as the bus rolls past Gas City, Woodburn, Defiance, and other Indiana and Ohio towns.
The coaches watch film during the entire drive. When the bus pulls into the Savage Arena parking lot just before 7:30 p.m., Kowalczyk huddles his team one final time.
"Absolutely no [bullcrap] tonight," he barked. "Get your asses home, and get some rest."
Contact Kyle Rowland at: krowland@theblade.com, 419-724-6110, or on Twitter @KyleRowland.
Guidelines: Please keep your comments smart and civil. Don't attack other readers personally, and keep your language decent. Comments that violate these standards, or our privacy statement or visitor's agreement, are subject to being removed and commenters are subject to being banned. To post comments, you must be a registered user on toledoblade.com. To find out more, please visit the FAQ.