Toledo men win MAC quarterfinal game over Miami
3/8/2018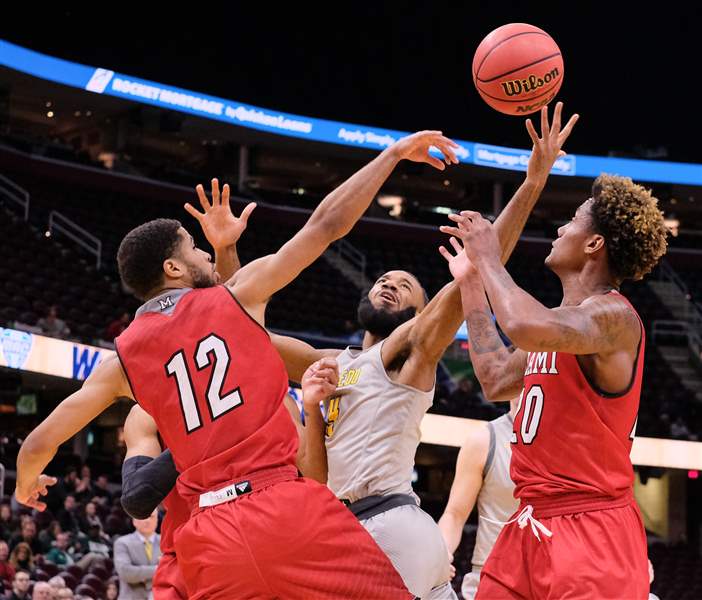 Toledo guard Tre'Shaun Fletcher shoots between Miami's Darrian Ringo (12) and Dalonte Brown during a MAC tournament quarterfinal game Thursday, March 8, 2018, at Quicken Loans Arena in Cleveland.
BLADE/JEREMY WADSWORTH
CLEVELAND — A red hot Nike Sibande pulled up from beyond the arc and had the University of Toledo men's basketball team waiting anxiously for the ball to come down and decide their Mid-American Conference tournament fate.
Toledo guard Tre'Shaun Fletcher shoots between Miami's Darrian Ringo (12) and Dalonte Brown during a MAC tournament quarterfinal game Thursday, March 8, 2018, at Quicken Loans Arena in Cleveland.
The shot missed as the buzzer sounded, and Toledo escaped with a 71-69 quarterfinal win Thursday against Miami at Quicken Loans Arena.
Sibande, the MAC freshman of the year, scored eight consecutive points for Miami during the final 1 minute, 15 seconds and almost helped the Redhawks complete a comeback from an 11-point deficit with 4:17 left.
PHOTO GALLERY: Toledo 71, Miami 69
RELATED CONTENT: Short turnarounds require late nights for coaches ■ Column by David Briggs
After Toledo's Jaelan Sanford made 1 of 2 free throws with nine seconds left to give the Rockets a 71-69 lead, he did everything he could defensively to disrupt Sibande on his 3-point attempt.
"I just had a lot of confidence in guarding him and in my defensive ability," Sanford said.
"I had a feeling he was going to be going right, and I sat on it and he rose up and I was there and it was good D."
Sanford led Toledo (22-10) with 21 points, while Tre'Shaun Fletcher and Luke Knapke scored 16 each.
VIDEO: Toledo coach Tod Kowalczyk
Led by Knapke, Toledo's bench outscored Miami's 24-6.
"This whole season I have come off the bench rather than starting, and I picture myself as the main guy," Knapke said. "I play most of the minutes at [center]. My job is to bring energy off the bench and get other guys ready to play in the game, like Willie [Jackson]. Then, we bring energy into the game."
Sibande led Miami (16-17) with 20 points, Darrian Ringo scored 19, and Bam Bowman scored 10.
"First of all, a really gritty good win for us," UT coach Tod Kowalczyk said. "In the second half, I thought we just did an unbelievable job of just guarding. The whole game, I thought we defended really well. They got a couple long rebounds on us and a couple dribble penetrations."
With 4:17 left, Jackson slammed home a lob from Fletcher as Toledo took a comfortable 65-54 lead. Miami responded with the next seven points to cut its deficit to 65-61 with 2:03 left after a Dalonte Brown 3-pointer.
Nate Navigato hit two free throws, followed by a layup for Sibande which made it 67-63 Toledo with 1:13 left. After Sanford missed a 3, Knapke tipped an offensive rebound back to Sanford, who was fouled. He hit two free throws with 36 seconds left to give the Rockets a 69-63 lead.
Sibande hit a quick 3 to cut the lead to three points with 26 seconds left.
Fletcher, who injured his knee in the final two minutes, came back in the game and made 1 of 2 free throws to stretch the UT lead to 70-66.
Another Sibande 3 cut it to 70-69 before Sanford made his 1 of 2 free throws to set up the final play.
"He's a special talent, there's just no way around it," Miami coach Jack Owens said of Sibande. "We all believe in him. He's a guy that we ran one play, and they changed it up twice, and he made both shots. But he's a guy that you can go to at the end of the game."
Miami led by as many as six points in first half after a Ringo 3 gave the Redhawks a 19-13 lead with 10:45 left. Toledo worked its way back in the game and took a 26-24 lead with 5:29 to go after a Fletcher layup.
Miami took back the lead 29-28 with 3:30 remaining after Ringo made a drive and layup. Knapke then hit a layup to give Toledo a 30-29 lead with 2:11 left in the half. Neither team scored in the final two-plus minutes before halftime.
VIDEO: Toledo-Miami
"I thought the first half, we pressed a little bit," Kowalczyk said. "I don't know if it was nervous energy or nervous excitement, but we kind of settled for maybe some questionable shots in the first half. That's not like us."
NOTE: Kowalczyk said he expects Fletcher to be back for Friday's semifinal. "I've got a lot of faith in our trainer, Brian Jones, he's the best in college basketball," Kowalczyk said. "They wouldn't have put him back in the game if they thought it was a serious injury so, initial diagnosis, he's going to be fine."
Contact Brian Buckey at: bbuckey@theblade.com, 419-724-6110, or on Twitter @BrianBuckey.