COLUMBUS — William Buford will return to the The Basketball Tournament as part of the Ohio State alumni team.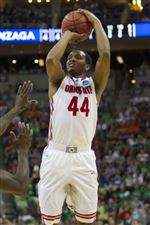 William Buford, the former Libbey and Ohio State star, most recently played in Germany.
ASSOCIATED PRESS Enlarge
The Toledo native and Libbey High School graduate once again will play as part of the Scarlet & Gray team, which will compete for The Tournament championship and the $2 million prize that comes with it.
Buford, who played in Germany this season, will join former Buckeyes Aaron Craft, David Lighty, and Evan Ravenel on the team.
As a prep player, Buford was a standout for the Cowboys. He was named All-Ohio, won the state's Mr. Basketball, and was a McDonald's All-American, then played four seasons for the Buckeyes and finished third in program history in career scoring.
He returns to a Scarlet & Gray team that was among the best teams in The Tournament last year, winning the Midwest regional and losing in double overtime in the semifinals.
The field is split into four regions (Midwest, South, West, and Northeast) of 18 teams: the nine most popular in terms of support, four at-large bids, four teams who can buy a spot, and the defending regional champion. The winning team receives $1.8 million of the prize money, with the remaining $200,000 percent paid out to the top 201 fans of their team.
The tournament will announce the field on June 6 and will begin play in July. The championship game is scheduled for Aug. 3 in Baltimore and will be televised by ESPN.
Contact Nicholas Piotrowicz at npiotrowicz@theblade.com, 419-724-6110 or on Twitter @NickPiotrowicz
Guidelines: Please keep your comments smart and civil. Don't attack other readers personally, and keep your language decent. Comments that violate these standards, or our privacy statement or visitor's agreement, are subject to being removed and commenters are subject to being banned. To post comments, you must be a registered user on toledoblade.com. To find out more, please visit the FAQ.