The University of Toledo baseball team came up with two shutout victories, 4-0 and 3-0, Friday against Bowling Green State University in Mid-American Conference play at Scott Park.
With the two wins, the Rockets (21-31, 14-13 MAC) put themselves in a better position to make the conference tournament. Toledo will make the event with an Eastern Michigan or a Western Michigan loss Saturday. If both teams win their games, the Rockets will be left out of the league tournament.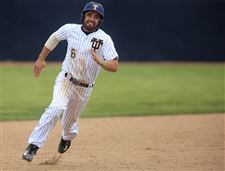 Toledo's Ross Adolph runs to third base during the first game of a doubleheader between Toledo and Bowling Green at Scott Park on Friday.
Blade/Kurt Steiss Enlarge
PHOTO GALLERY: Toledo sweeps doubleheader with BGSU
Toledo's starting pitching was excellent as Sam Shutes and Michael Jacob each went the distance.
Shutes allowed just two hits and one walk with nine strikeouts on the way to his 10th win of the season.
Four first-inning runs were all Toledo needed.
Brad Boss started the scoring with a bases-loaded RBI single, Trace Hatfield followed with another RBI single, AJ Montoya recorded a sacrifice fly, and Chris Meyers closed out the rally with another RBI single.
In the second game, Jacob allowed six hits, with no walks and eight strikeouts.
John Servello and Matt Hansen scored first-inning runs on a play when Dalton Bollinger reached on an error. Servello then added an RBI single in the seventh for Toledo.
VIDEO: Toledo earns doubleheader sweep over BGSU
Guidelines: Please keep your comments smart and civil. Don't attack other readers personally, and keep your language decent. Comments that violate these standards, or our privacy statement or visitor's agreement, are subject to being removed and commenters are subject to being banned. To post comments, you must be a registered user on toledoblade.com. To find out more, please visit the FAQ.