Position preview: UT looking for QB to claim starting role
8/6/2018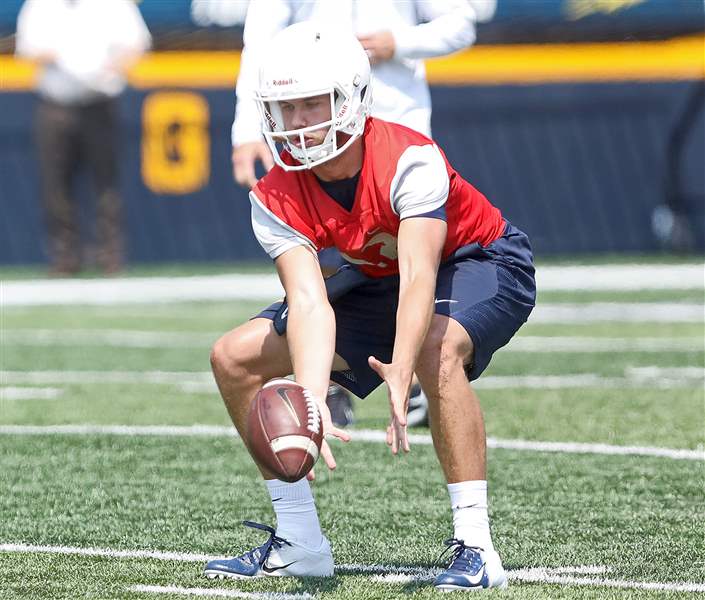 UT sophomore quarterback Eli Peters is one of four candidates to start at the position this season.
BLADE/KURT STEISS
All eyes will be on the University of Toledo quarterbacks this fall as the Rockets prepare for the 2018 season. A four-player battle for the starting job will play out during camp.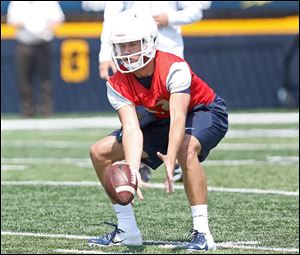 UT sophomore quarterback Eli Peters is one of four candidates to start at the position this season.
The leading candidates for the job are junior Mitch Guadagni and sophomore Eli Peters, but talented freshmen Carter Bradley and Cross Wilkinson are ready to compete for the spot as well.
"I think [the starter] will emerge and it will happen naturally," Toledo coach Jason Candle said. "You would like it to be sooner rather than later, but what if it's not? You have to adapt and overcome and figure out what the next plan is. We have a long way to go.
"Those two young freshmen are competing too. I'm not ruling anybody out of this competition. I think the other guys welcome that kind of competition. We're looking forward to it."
With a full fall camp slate ahead, Candle and his coaching staff will get a good, long look at all four quarterbacks who will vie to replace two-year starter Logan Woodside.
"The guy that really embraces the challenges of what I want out of the quarterback will be the guy," Candle said. "Fall camp is a major piece of the evaluation process. Spring practice definitely is as well and summer workouts were as well. From there we pick the best guy that gives the Rockets a chance to be successful."
Personnel
Graduated
11 Logan Woodside
5 Michael Julian
Returning players
6 Mitch Guadagni (6-2, 210; Jr.): 1-for-6 passing for 16 yards; eight carries for 76 yards
12 Eli Peters (6-2, 185, So.): Did not see game action
2 Carter Bradley (6-3, 208, Fr.): incoming three-star recruit
9 Cross Wilkinson (6-3, 205, Fr.): incoming three-star recruit
13 Jalen Reese (6-3, 206, Sr.): Did not see game action
Fall camp needs:
A starter needs to emerge from the pack. Guadagni and Peters have the best grasp of the Toledo offense because of their experience. Bradley and Wilkinson are very talented freshmen who will push Guadagni and Peters to be at their best this fall. Candle wants one of the four quarterbacks to separate themselves from the rest and demonstrate command of the offense and the ability to manage the game as well as make plays to a talented set of wide receivers down the field.
Player on the spot:
Guadagni. The junior has the best feel for the offensive playbook and up-tempo offense that Toledo uses after spending the past two years as a backup to Logan Woodside. It would appear to be his time to earn the starting job, but that will have to be settled in fall camp. If he is quick and decisive with the football and is a leader in the huddle, he will have a good chance to be successful. He brings another dimension to the position with his above-average rushing ability for a quarterback.
Contact Brian Buckey at bbuckey@theblade.com, 419-724-6110, or on Twitter @BrianBuckey.