Position preview: UT with plenty of options at wide receiver and tight end
8/14/2018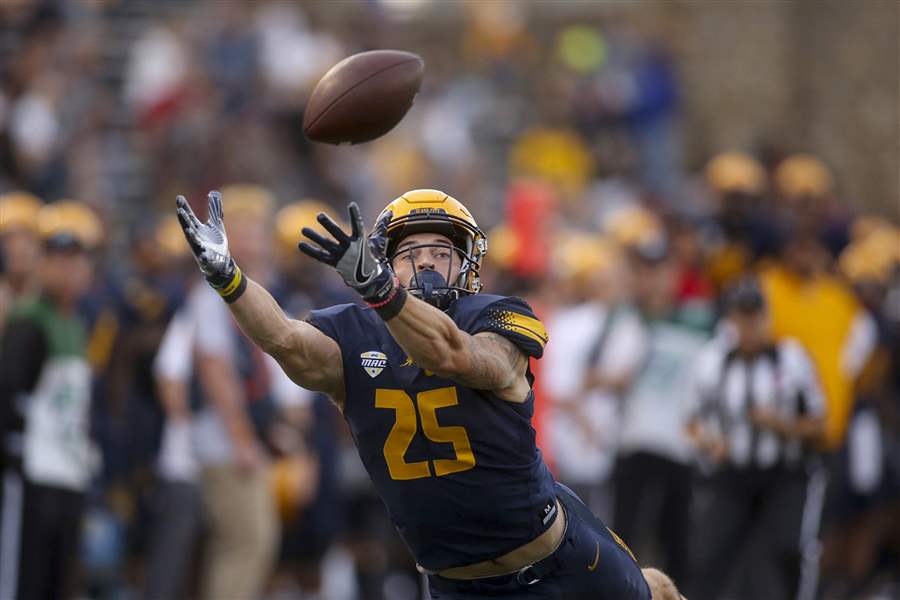 Toledo's Cody Thompson leads a group of talented receivers.
Blade/Katie Rausch
At first glance, the wide receiver position for the University of Toledo is one of the deepest in recent memory.
In Cody Thompson, Jon'Vea Johnson, and Diontae Johnson, the Rockets have three players returning with at least 1,000 career receiving yards and with a season with at least 10 receiving touchdowns. That's not to mention Danzel McKinley-Lewis, Desmond Phillips, and Bryce Mitchell who are capable, quality receivers in their own right.
"It's a very competitive group and it's a group where we have really recruited well at that position," UT coach Jason Candle said. "There are lots of guys that have the opportunity to get their hands on the football. The one thing I would say about that group is that they haven't really even scratched the surface of how good they can be. There is so much room for improvement and room for growth that it's going to be great to see preseason camp."
The tight ends may have less of a passing-game role than they have had in the past, simply because of the depth at the receiver position. But Toledo should continue to line the tight end up in different spots of certain formations and get creative in how they use the position.
Last year's starter Jordan Fisher switched over to linebacker this spring, leaving the opportunity to start in the hands of Reggie Gilliam and Drew Rosi, with redshirt freshman Jamal Turner and true freshman Alex Morgan challenging for snaps as well.
"Reggie Gilliam is as consistent as anyone on our football team in his approach and his day-to-day routine, which I really respect," Candle said. "Drew Rosi and Jamal Turner are two young players that got their feet wet a little bit last year and then you bring in Alex Morgan who I would not rule out getting snaps as a true freshman either. I'm happy with that group and am excited for where they are going."
Returning wide receivers (2017 stats)
25 Cody Thompson (6-2, 207, Sr.) 28 catches, 537 yards, 4 TDs
7 Jon'Vea Johnson (6-0, 190, Sr.) 42 catches, 689 yards, 5 TDs
3 Diontae Johnson (5-11, 185, Jr.) 74 catches, 1,278 yards, 13 TDs
4 Danzel McKinley-Lewis (5-10, 190, Jr.) 23 catches, 319 yards, 3 TDs
10 Desmond Phillips (5-10, 187, So.) 12 catches, 101 yards, 2 TDs
80 Bryce Mitchell (6-3, 200, So.) 3 catches, 41 yards
15 Neru N'Shaka (5-11, 185, So.) 1 catch, 2 yards
32 Rhett Blackman (5-9, 190, Fr.) 1 catch, 7 yards.
8 Andrew Davis (6-4, 215, Sr.) Missed last season with injury.
Returning tight ends
14 Reggie Gilliam (6-0, 240, Jr.) 3 catches, 30 yards
89 Drew Rosi (6-4, 245, So.) 6 catches, 90 yards
81 Jamal Turner (6-6, 240, Fr. (R)) Sat out as redshirt
Newcomers at WR
87 Jalin Cooper (6-4, 180 Fr.) Three-star recruit
29 Dakari Carter (5-9, 167, Fr.) True freshman
Newcomer at TE
84 Alex Morgan (6-5, 245, Fr.) Three-star recruit
BRIGGS: Toledo has the best receivers in the Midwest
Fall camp needs
The No. 1 thing this fall at the receiver and tight end positions is the competition from within. With so many talented players, coaches will be looking for each player to push one another to improve each unit as a whole. One other thing to keep an eye on is building chemistry with the quarterbacks. The starting quarterback is still an unknown, so the receivers and tight ends should be putting in extra work to get on the same page with as many of the potential quarterbacks as possible. That can also be done by making the most of each rep in the fall, no matter who the quarterback is at that particular time.
Player to watch
Danzel McKinley-Lewis. The talents of McKinley-Lewis as a slot receiver often get overlooked because of the talented outside receivers on the roster. McKinley-Lewis is an explosive player with great speed. Last season he caught at least one pass in 11 games. He was able to find the end zone three times. As defensive coordinators scheme for Thompson and the Johnsons, McKinley-Lewis may find a lot of room to operate in the middle of the football field where he can use his quickness to an advantage. He began to develop as a red-zone threat last season and there could be more of that to come this year.
Contact Brian Buckey at bbuckey@theblade.com, 419-724-6110, or on Twitter @BrianBuckey.