Announcement on Meyer's status expected next week
8/17/2018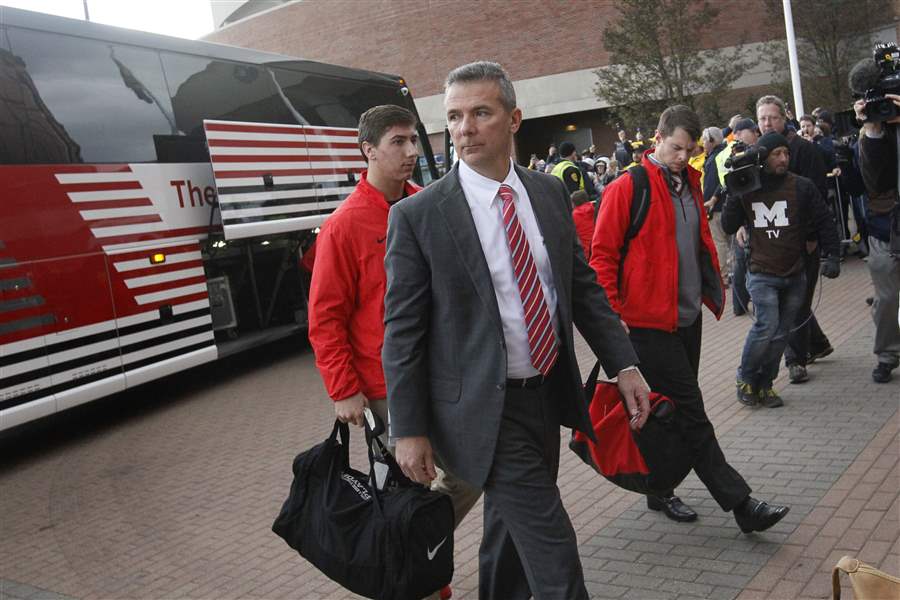 An announcement on the status of Ohio State head coach Urban Meyer appears to be set for next week.
Blade/Katie Rausch
COLUMBUS — The Urban Meyer saga will drag into next week.
Ohio State announced Friday the investigation into Meyer will be completed Sunday, coinciding with the two-week timetable it previously established, at which time a report will be prepared for the university's board of trustees.
An announcement on the status of Ohio State head coach Urban Meyer appears to be set for next week.
The working group will share the report with the trustees in an executive session, according to the statement. OSU president Michael Drake then will announce his decision after deliberations with the board.
Meyer was placed on paid administrative leave Aug. 1 in response to a report by Brett McMurphy that alleged the head coach was aware of domestic abuse allegations against then-receivers coach Zach Smith in 2015. Meyer denied knowing about the allegations the previous week at Big Ten media days.
RELATED CONTENT: Soap opera at Ohio State will soon come down to just the facts ■ Former OSU assistant arrested for drunken driving in 2013
In a statement Aug. 3, Meyer admitted making a mistake in his answers at media days. He also said he followed all proper protocols related to the allegations. On the same day, Zach Smith, who was fired July 23 after domestic abuse allegations from 2009-15 became public, indicated OSU athletic director Gene Smith called him as he was on the road recruiting and told him to return to Columbus because of the accusations.
Zach Smith's comments combined with Meyer's statement seemed to exonerate Meyer from a legal standpoint, possibly putting Gene Smith in the investigation's crosshairs.
"I will say that the team is investigating this particular set of circumstances and I don't know all the questions they're asking or how they're going about it," Drake said on WOSU public radio this week. "I'm waiting until they come forward with information and we'll try to use that information to make the best decisions we can."
Acting head coach Ryan Day met with the media for the first time during the Buckeyes' fall camp Friday, which began Aug. 3.
Well, sort of.
Day didn't take any questions, but he did release a statement discussing Ohio State's progress this fall.
"You will be proud to know that our players and coaching staff have attacked each day and forged together as a team," Day wrote. "Our program starts and ends with our players, and the leaders of this team are incredibly focused and determined to maximize our talents to be the best team possible when we line up on Sept. 1. The energy level the entire group has brought to each day is a testament to the work ethic and perseverance of our program."
He gave a detailed position-by-position breakdown of camp's progress, including notes that quarterbacks Dwayne Haskins and Tate Martell "have been putting in the work on and off the field to get themselves prepared for an excellent season" and running backs J.K. Dobbins and Mike Weber "love their teammates." Brian Hartline, Zach Smith's replacement as receivers coach, "has brought the 'juice' each day," Day wrote.
On the injury front, true freshman quarterback Matthew Baldwin continues to recover from ACL surgery, while projected starting middle linebacker Tuf Borland still is recovering from a spring Achilles' tendon injury. Defensive back Jeffrey Okudah is on the field after missing spring because of a shoulder injury.
Ohio State will have a scrimmage Saturday, which designates the end of fall camp and the beginning of what are considered traditional practices.
In closing, Day said, "I would also like to thank the members of the Ohio State media corps for their patience and understanding."
Contact Kyle Rowland at: krowland@theblade.com, 419-724-6110, or on Twitter @KyleRowland.