When 15-year-old Nick Fish got his opportunity to run towards the Glass Bowl end zone Sunday at the University of Toledo's fifth annual Victory Day, he made sure to punctuate his run with a dive across the goal line.
Fish, who has cerebral palsy, has grown close to the Toledo football program the past few years and has attended every Victory Day event.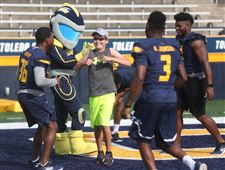 Dylan Baumgartner, 12, who will be attending Elmhurst Elementary, after scoring a touchdown during the University of Toledo's fifth annual Victory Day. University of Toledo players are, from left, Desmond Bernard, Diontae Johnson, and Reggie Gilliam.
THE BLADE/JETTA FRASER
Enlarge | Buy This Image
The joy on Nick's face, the support from the players and coaches, and the overall atmosphere of the event never gets old for Nick's mom, Susan Sears Fish.
Sears Fish said every year when they pull into the parking lot at the football stadium, Nick is near the car door with his UT helmet ready to go before the vehicle comes to a stop.
"It makes you feel very proud as a parent and very happy," Sears Fish said. "Whenever he's happy, I'm happy. The way the students have taken him in has just made me so happy to be a part of this community. [The Toledo football team] is really thoughtful. They can have intangible benefits from it, but the effort they put in is beyond that. They know the right thing to do."
Victory Day, started in 2010 by Aaron Segedi, a teacher and football coach from Trenton, Mich., allows young cognitively or physically impaired students to have their own moment of glory.
Each young kid from the area was paired with a UT football player and was able to tour the weight room, the locker room, and the Glass Bowl.
Then as a group, the kids ran onto the field from the locker room through a tunnel made up of players and cheerleaders.
VIDEO: Victory Day at the Glass Bowl
Each kid huddled up with the Toledo offense and with the familiar sights and sounds of a college football game — the band playing and the cheerleaders cheering them on — was able to navigate the defense and score a touchdown.
"I don't know who has a bigger smile — our players or the young people who are here with us today," UT coach Jason Candle said. "It's just a really cool moment and it comes at a needed time for us during preseason camp. It's a time for us to catch our breath and be thankful for the ability and the opportunity to do what we love to do every day. The excitement that our players get from seeing a smile on these young people's faces, it's hard to replicate that. It's a very exciting day and we are happy that it continues to grow."
Toledo senior quarterback Jalen Reese was in the huddle with some of the kids at the event, and said it always is exciting to see them get their moment to shine on the football field.
"It's great to see," Reese said. "It has nothing to do with me and everything to do with them. They came here to be with us and to have one play, and we will do whatever it takes to make that special for them. It makes you a lot more appreciative and grateful and thankful for what you do have. You just want to give that to them and make them feel special today."
Contact Brian Buckey at: bbuckey@theblade.com, 419-724-6110, or on Twitter @BrianBuckey.
Guidelines: Please keep your comments smart and civil. Don't attack other readers personally, and keep your language decent. Comments that violate these standards, or our privacy statement or visitor's agreement, are subject to being removed and commenters are subject to being banned. To post comments, you must be a registered user on toledoblade.com. To find out more, please visit the FAQ.