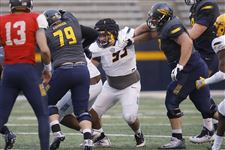 Rossford graduate Nate Childress (93) fights offensive linemen during the University of Toledo football spring game on April 13 at the Glass Bowl.
Blade/Katie Rausch Enlarge
Defensive line is one of the biggest questions for the University of Toledo football team coming into the 2018 season.
After losing defensive tackle Marquise Moore, and both starting defensive ends in Zach Quinn and Ola Adeniyi, the Rockets are in search of key contributors at the end and tackle positions on the line.
Tuzar Skipper is back from injury and Nate Childress and Reggie Howard saw significant playing time on the interior last season. They will be counted on as leaders, while the coaches search for quality depth on the line.
"We head into fall camp with maybe some un-crossed T's and some un-dotted I's there," UT coach Jason Candle said at the start of camp. "We have to figure that out. I think we are talented there. We are looking at a solid rotation of four or five defensive ends that can play throughout the course of a game. And then you want three or four interior guys that can go in there and hope that the level of play does not drop off. That's what we are trying to get accomplished."
Returning players
93 Nate Childress (6-3, 292, Jr.) Started 11 games at DT with 29 tackles and one sack
99 Tuzar Skipper (6-3, 246, Sr.) Had eight tackles in three games before season-ending injury
97 Reggie Howard (6-3, 285, Sr.) Played all 14 games with 18 tackles and five tackles for loss
93 David Hood (6-1, 281, So.) Played in eight games with six tackles
94 Edrick Mathews (6-3, 303, So.) Played in nine games with nine tackles
98 Tyrone Chambers (6-5, 340, So.) Played in four games with seven tackles
95 Willie Ross Jr. (6-1, 278, Jr.) Played in 11 games and made 19 tackles with two sacks
51 Chris Green (6-0, 247, Jr.) Played in six games with five tackles.
55 Lucas Maynard (6-3, 248, Jr.) Played in eight games with nine tackles
46 Andrew Boczar (6-4, 260, Jr.) Played in 14 games with five tackles
90 LaMarr Davis (6-1, 307, Jr.) Played in one game and made one tackle
53 Devonte' Dunn (6-2, 290, R-Fr.) Redshirted last season
7 Obi Anunike (6-4, 240, R-Fr.) Redshirted last season
Newcomers
86 Melvin Johnson (6-3, 280, Jr.) Junior college transfer from Las Vegas
92 Jake Hudson (6-4, 240, Jr.) Junior college transfer from California
54 Jahneil Douglas (6-3, 292, R-Fr.) Joined team in spring
52 Derrius Mullins (6-5, 335, R-Fr.) Joined team in spring
85 Desjuan Johnson (6-3, 240, Fr.)
87 Terrance Taylor (6-4, 214, Fr.)
91 Jamal Hines (6-2, 216, Fr.)
Fall camp needs
Depth is the name of the game this fall as the coaches look to indentify who can be counted on to be in the in-game rotation at both the ends and tackles. There were a lot of players who saw limited time last season. Can those players be counted on to step into a bigger role this season? That will have to be decided in camp as well as what newcomers will be able to crack the rotation.
Player to watch
Nate Childress. The Rossford alum was productive last year in his 11 starts at the defensive tackle position. He will be counted on even more this season as a leader at the position and an anchor in the middle of the defense. If he is able to create some push inside and be effective in stopping the run that will be a big lift for the rest of the defensive line.
Contact Brian Buckey at bbuckey@theblade.com, 419-724-6110, or on Twitter @BrianBuckey.
Guidelines: Please keep your comments smart and civil. Don't attack other readers personally, and keep your language decent. Comments that violate these standards, or our privacy statement or visitor's agreement, are subject to being removed and commenters are subject to being banned. To post comments, you must be a registered user on toledoblade.com. To find out more, please visit the FAQ.