Ohio State coach Urban Meyer suspended 3 games
8/22/2018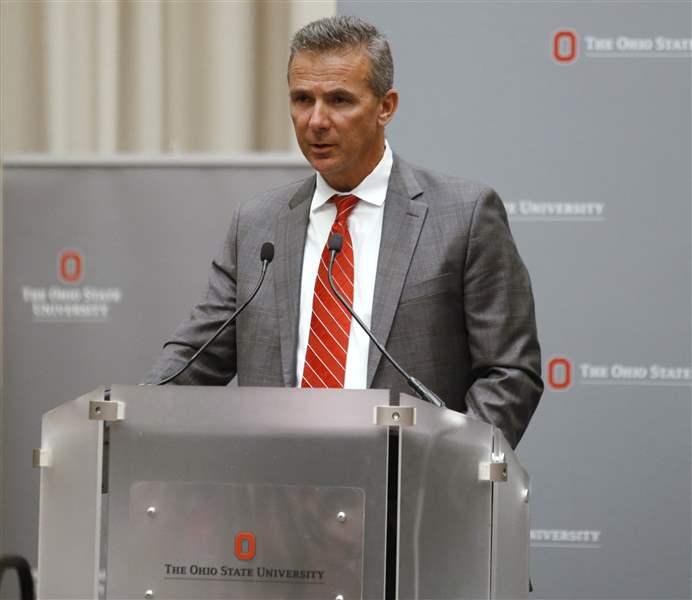 Ohio State football coach Urban Meyer makes a statement during a news conference in Columbus, Ohio.
ASSOCIATED PRESS
COLUMBUS — When Ohio State University opens the 2018 football season Sept. 1 against Oregon State, Urban Meyer will not be in Ohio Stadium. But the embattled OSU coach will return this season.
Ohio State announced Wednesday that Mr. Meyer, who was put on administrative leave Aug. 1 amid an investigation into his handling of domestic violence allegations against a former assistant coach, will serve a three-game suspension. Mr. Meyer, who will also forgo six weeks of pay, will return for the Sept. 22 game vs. Tulane.
Offensive coordinator and quarterbacks coach Ryan Day, who has been serving as acting head coach, will serve as Mr. Meyer's interim replacement. Mr. Meyer will return to the team on Sept. 3 and will be able to coach during practice.
Athletic director Gene Smith is suspended without pay from Aug. 31 through Sept. 16.
DAVID BRIGGS: Investigation into Meyer, Ohio State program leaves no winners
RELATED: 23-page report on findings in Ohio State's investigation ■ Ohio State puts Urban Meyer on paid administrative leave | Meyer: I have always followed proper reporting protocols
The investigation found that while neither Mr. Meyer nor the athletic director "condoned or covered up" alleged domestic abuse by former receivers coach Zach Smith, the two "failed to take sufficient management action relating to Zach Smith's misconduct and retained an assistant coach who was not performing as an appropriate role model for OSU student-athletes."
Zach Smith's then-wife Courtney Smith twice called police in Powell, Ohio, with allegations of domestic violence in the fall of 2015. Zach Smith also was arrested by police in Florida in 2009 when Courtney Smith called police and said the coach threw her against a wall.
VIDEO: Ohio State University press conference
Charges were not pursued either time, and Zach Smith continued coaching at Ohio State until July 23, three days after Courtney Smith received a domestic violence protection order against her ex-husband.
Mr. Meyer, 54, denied knowing of the 2015 incidents when speaking at a Big Ten Conference media event July 24 in Chicago, but a story by college football reporter Brett McMurphy published Aug. 1 showed Courtney Smith's claims of abuse were common knowledge inside the football program and known by Shelley Meyer, Mr. Meyer's wife. Mr. Meyer was placed on administrative leave that evening.
A six-member panel, which included three university trustees, a former Ohio House speaker, a former acting U.S. deputy attorney general, and a former U.S. attorney for the Southern District of Ohio, directed an investigation into Mr. Meyer's handling of the situation. Mary Jo White, the former chair of the Securities and Exchange Commission, led the investigative team.
They found that Meyer "has a sincere commitment to the Respect for Women core values that he espouses and tries to instill in his players." The investigative committee also concluded that Meyer would not hesitate to terminate any coach if spousal abuse was established.
"We believe [Coach Meyer], as did Zach Smith, that if [Coach Meyer] ever came to learn or believe that Zach Smith had physically abused his wife, Coach Meyer would have fired Zach Smith or any other coach on the spot," the report stated.
But they identified multiple examples of inappropriate conduct by Zach Smith, some known by Mr. Meyer and/or Gene Smith, as well as members of the football staff. The investigative committee said both Mr. Meyer and Gene Smith's efforts to help Zach Smith overcome personal issues went too far in allowing him to remain employed after repeated misconduct.
Mr. Meyer acknowledged that his loyalty to Earle Bruce impacted his judgment with Zach Smith. Mr. Bruce, the former head coach at Ohio State who died in April, was Mr. Meyer's mentor and Zach Smith's grandfather.
Mr. Meyer was asked directly what message he had for Courtney Smith and responded that he would tell everyone involved, "I'm sorry we are in this situation."
Ohio State said it interviewed more than 40 witnesses, reviewed over 60,000 emails and 10,000 text messages, relevant media reports, police reports, court filings, Mr. Meyer and Gene Smith's contracts, university, Big Ten, and NCAA rules, and applicable state and federal laws.
The investigate committee found that Mr. Meyer did not deliberately mislead the media in Chicago. Mr. Meyer did admit, though, that his statements set in motion the events of the past three weeks.
"I did a poor job at media day," Mr. Meyer said.
When asked if he agrees with the suspension, Mr. Meyer said, "I trust and support our president [Michael Drake]."
The panel completed a two-week investigation Sunday before delivering the final report to Ohio State's board of trustees Monday. The board and investigators met Wednesday for 10 hours in an executive session before the decision was announced.
"Ultimately, I'm responsible for everyone's behavior in the football department," Mr. Meyer said. "There was some behavior going on that I wasn't aware of and should have been."
Contact Kyle Rowland at krowland@theblade.com, 419-724-6110 or on Twitter @KyleRowland.