Position preview: UT looking for playmakers at linebacker
8/23/2018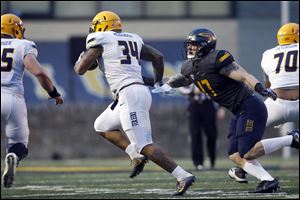 Nevone McCrimmon (34) is taken down by Tyler Taafe during the University of Toledo spring game.
The University of Toledo football team returns some key players at the linebacker position even after losing seniors Ja'Wuan Woodley and Jack Linch to graduation.
Tyler Taafe started every game last season and Richard Olekanma played in each contest, including one start. The senior duo figures to anchor the unit this season as some more inexperienced players will provide depth at the position.
Junior Jordan Fisher looks to make his mark at linebacker after serving as the starting tight end last season. Evander Craft is a talented junior college transfer and Tre'Shun Wilson is working back from an injury that kept him out all last season.
"Linebacker is a little different this year because you have some veteran guys there," UT coach Jason Candle said. "You have Richard and Tyler back. We add Jordan Fisher, we add Evander Craft, and we have Dan Bolden here. Tre'Shun Wilson is back off of injury. AJ Crider is a talented redshirt freshman as well. The experience is there, but will get the best guys out there and we will see."
Returning players
17 Tyler Taafe (6-1, 230, Sr.) Started all 14 games and registered 48 tackles and 2.5 tackles for loss
42 Richard Olekanma (6-2, 245, Sr.) Played in all 14 games, starting one. Made 45 tackles with 1.5 sacks.
50 Connor Lancia (6-0, 212, Jr.) Played seven games with six tackles
43 Erik Davis (6-2, 210, Jr.) Played two games with three tackles
40 Tre'Shun Wilson (6-0, 225, So.) Injured in season opener and missed the rest of the season
Newcomers/Redshirts
2 Jordan Fisher (6-3, 238, Jr.) Switched to linebacker after starting last season at tight end
9 Evander Craft (6-3, 220, Jr.) Junior college transfer
35 AJ Crider (6-1, 215, R-Fr.) Redshirted last season
44 Tadarrius Patterson (6-1, 215, R-Fr.) Redshirted last season
30 Chase Hartley (6-1, 220, Fr.) True freshman
31 Daniel Bolden (6-1, 230, Fr.) True freshman
Fall camp needs
Toledo will look to cultivate some depth from young players like AJ Crider, Tadarrius Patterson, and Daniel Bolden as well as get newcomers like Fisher and Craft integrated in the defensive scheme.
Taafe and Olekanma will need to develop their leadership skills as they will be counted on to be the quarterbacks of the defense in a sense.
Player to watch
Jordan Fisher. Fisher made the switch to linebacker this spring and is already establishing himself as someone who can have an impact this season. Fisher impressed coaches with his progress in the spring and his positive attitude in adjusting to a completely new position. If he can give the linebacker unit another quality option, that could provide a big lift for the defense.
Contact Brian Buckey at bbuckey@theblade.com, 419-724-6110, or on Twitter @BrianBuckey.