Popular redshirt rule could mean big changes in 2018
8/28/2018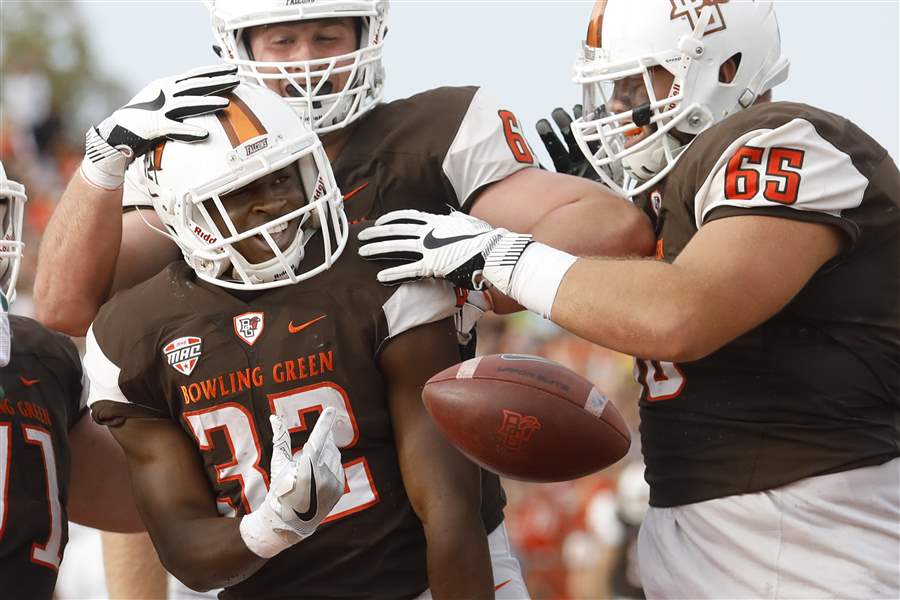 Andrew Clair (32) started for Bowling Green as a true freshman last season. This season, more freshmen than ever could see the field.
Blade/Katie Rausch
BOWLING GREEN — All across college football, this could be the year of the freshman.
A handful of select true freshmen will be major contributors as usual, but more first-year players are likely to hit the field this season than before.
The NCAA's relaxation of redshirt rules allows players to play in as many as four games this season and still qualify for a redshirt, thus granting some playing time without sacrificing a year of eligibility. Previously, a player was ineligible for a standard redshirt if he played in even one game.
The rule change was popular among college coaches, who now are operating with what feels like an expanded roster. Bowling Green coach Mike Jinks said he'll play as many game-ready first-year Falcons as possible, and he doesn't think he's alone.
"We're going to play as many that are ready to play," Jinks said. "I think you'll see that from everybody in the country."
Programs across the country now are deciding how to best use the redshirt rule. Redshirt candidates now can play a few games on special teams, serve as insurance in case of injuries, or see the field in nonconference games — and still preserve the year in terms of eligibility.
Eastern Michigan coach Chris Creighton said there is a "baseline" for players to enter the game, even with rule changes.
Eastern Michigan coach Chris Creighton said one option was splitting the season into thirds, whereby players could play the first, middle, or final four games. However, he said there is still "above the line and below the line" — ready or not ready for the field.
"Even though a guy can play for four games, he still has to know what he's doing and has to be able to play," Creighton said. "I think there still is a baseline, for us anyway, before someone's going to go out there. It doesn't mean everyone in our program is going to play."
Longtime Ohio coach Frank Solich said the Bobcats have planned out the year for their freshmen. A few of them, as usual, will have expanded roles right away, and Ohio hopes to develop a few more as the year goes along.
With four games available, Solich said his coaches have discussed how — and in which games — to use their redshirt candidates.
"We've got it kind of mapped out. We hope that it goes as smoothly as we'd like it go," he said. "We'll see on that, but I do like the rule."
Even with the changes to the redshirt rule, Bowling Green's best freshmen still will play big minutes. True freshman receivers Julian Ortega-Jones and Noah Massey, running backs Ra'veion Hargrove and Rico Frye, and defensive end Karl Brooks all will be part of BG's plans from the start of the season Saturday.
Jinks said the roster is "probably about a year away" from where he would like it, and first-year players still will be needed.
"Those guys are going to play. That's kind of where we are, and they're talented," he said. "The good thing about that, as I say those names, in the last couple years those guys didn't just have to come in and play, they had to start and they had to be big contributors. Now, we can ease those guys in."
Creighton said he thinks the philosophy behind the rule change — allowing more leeway to programs and players — will come to fruition this season.
For the players who would have sat out the entire season in years past, the opportunity to enter a game can make all the difference.
"It's great for guys to know that aren't just blanket redshirted and they have a chance to play in four games," Creighton said. "I think for the young guys, I think there's just some hope and change their demeanor about this season."
Contact Nicholas Piotrowicz at: npiotrowicz@theblade.com, 419-724-6110, or on Twitter @NickPiotrowicz.