Toledo routs VMI in season opener
9/1/2018
Toledo receiver Cody Thompson blocks a punt by VMI's Reed King. Thompson, who was out with an injury most of last season, scored on the play, and the Rockets won their season opener 66-3.
BLADE/JEREMY WADSWORTH
After missing a majority of last season with a broken leg, University of Toledo senior receiver Cody Thompson wasted little time making his presence felt in his return to the field in the Rockets' 2018 opener Saturday against Virginia Military Institute at the Glass Bowl.
It just happened his first impactful play came on special teams.
Thompson lined up in the middle of Toledo's punt block formation early in the first quarter and busted his way through the VMI offensive line. He was in the backfield so quickly he grabbed the ball off punter Reed King's foot and recovered it in the end zone for a touchdown.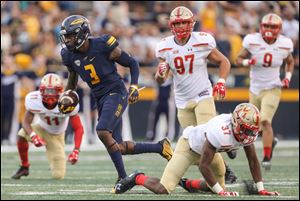 University of Toledo receiver Diontae Johnson breaks away from VMI defensive back Jaelen Adkins to score a touchdown.
"It kind of happened so fast, and everyone on the sideline was asking if I caught it," Thompson said. "I didn't really know what happened. It just kind of ended up in my chest. All credit goes to our special teams coach [Robby Discher]. He drew up our block look and it worked out to exactly what he said. It was a great call by him."
That started the scoring for Toledo, and the Rockets never let up in a 66-3 win against VMI, the largest margin of victory for Toledo since 1951.
"The best football player on our team just made a play and that's what it is supposed to be like," UT coach Jason Candle said of Thompson's block. "It's not an 80-yard touchdown reception. It's on special teams, but it kind of defines that guy's career. That's why you are happy he plays for you."
PHOTO GALLERY: Toledo 66, VMI 3
VIDEO: Toledo receiver Cody Thompson and head coach Jason Candle
RELATED CONTENT: Hollman steps into leadership role for UT cornerbacks ■ Toledo schedule ■ Michigan can't rally, drops rivalry game to Notre Dame ■ Oregon offense too much for BGSU ■ Ohio State crushes Oregon State
Thompson added three catches for 68 yards and a touchdown.
Toledo junior quarterback Mitch Guadagni was sharp in his first career start, completing 11 of 16 passes for 265 yards and three touchdowns. He also rushed four times for 20 yards.
"I felt pretty good just getting out there and getting comfortable with the offense in a game situation," Guadagni said. "That's always nice. Our team handled it really well. We have to improve on some stuff, but it felt really good to get out there and get a game under my belt."
Kentucky transfer and Springfield High School alum Bryant Koback impressed in his Rockets debut, as he rushed nine times for 67 yards and two touchdowns.
"I feel like we prepared well enough to when I got in, I was comfortable," Koback said. "The atmosphere around me didn't feel any different. It felt like home to me which it is."
Sophomore running back Shakif Seymour added two touchdowns.
Senior receiver Jon'Vea Johnson caught three passes for 80 yards, including a 57-yard touchdown pass, and junior Diontae Johnson added two catches for 60 yards and a 48-yard touchdown grab.
After the Thompson punt block, Toledo added to its lead when Seymour plunged into the end zone from a yard out to give the Rockets a 14-0 edge with 7:25 left in the first.
Guadagni then threw his first career touchdown pass, to Diontae Johnson, that gave Toledo a 21-0 lead with 4:33 to go in the first quarter.
Koback got off to a quick start in his first action starting in the second. Koback had three rushes for 13 yards and a 2-yard score on his first drive, which gave the Rockets a 28-0 lead with 13:09 remaining in the first half.
VMI finally got on the board when Reed King hit a 28-yard field goal that made the Toledo lead 28-3.
The Rockets answered with a 4-yard scoring run from Seymour. Guadagni then found Thompson as he was scrambling to his right and Thompson broke free for a 38-yard score, giving Toledo the 42-3 edge that they carried into halftime.
Guadagni came back in on the second drive of the second half and found Jon'Vea Johnson for a touchdown pass to give Toledo a 49-3 lead.
Koback then scored on a 16-yard run that increased the Rockets' lead to 56-3.
Nevone McCrimmon added a third-quarter touchdown on a 15-yard run.
Jameson Vest completed the scoring with a 29-yard field goal.
The Toledo defense forced three turnovers, with interceptions from Ka'dar Hollman and Tycen Anderson and a fumble recovery by Tuzar Skipper.
"Every practice we do, we emphasize takeaways," Skipper said. "We feel like if we can take the ball away that gives us an advantage and that can help us win the game."
Contact Brian Buckey at: bbuckey@theblade.com, 419-724-6110, or on Twitter @BrianBuckey.