High school parking lot is a moneymaker on Michigan football Saturdays
9/8/2018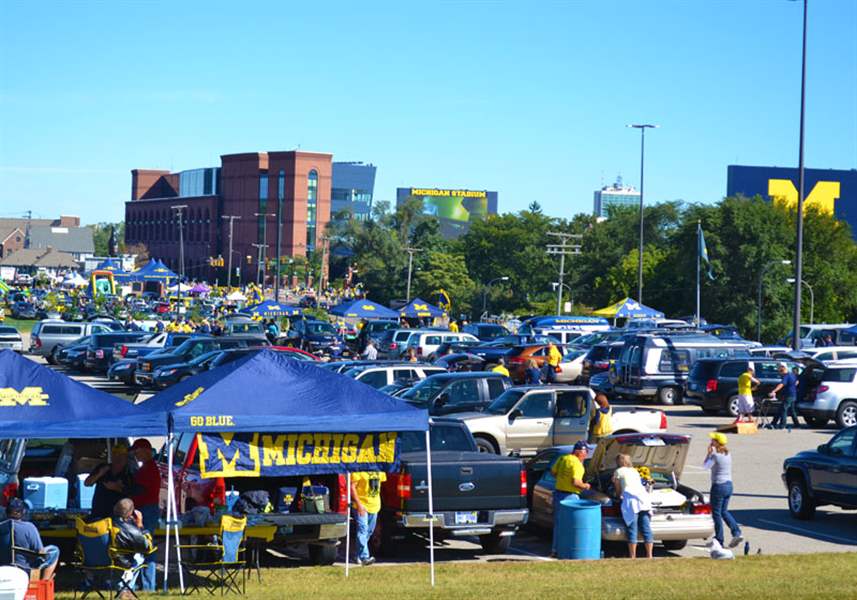 The parking lots at Pioneer High School, across the street from Michigan Stadium, fill for another game.
ANN ARBOR PUBLIC SCHOOLS
ANN ARBOR — As the opening kickoff was going on inside Pioneer High School's stadium Friday, the parking lot outside was starting to fill up with RVs.
They weren't coming to see the Pioneers and Tecumseh High School. They were arriving for Saturday's festivities, namely tailgating — and Michigan's home opener against Western Michigan.
More than 200,000 people will be inside Ann Arbor's city limits, with a majority being concentrated across the 3,177 acres that make up the University of Michigan campus. Diagonal to Michigan Stadium at the corner of West Stadium Boulevard and Main Street sits Pioneer High School and its spacious parking lot. The blacktop jungle has hosted Michigan football fans for decades.
The 3,500 parking spaces are an asphalt paradise for Ann Arbor Public Schools. In the three seasons since Jim Harbaugh was hired — 21 home games — total revenue from football parking is more than $3 million. In the three years before Harbaugh — 20 home games — the revenue was $2.6 million.
"It's a nice asset for our entire school district," said Christine Stead, president of the Ann Arbor Public Schools Board of Education. "We appreciate having other avenues for revenue to keep our district strong. We have about a $250 million operating budget each year, so the revenue we get from the parking lot is a small contribution to the overall picture but an important one."
A lion's share of the money goes to the Ann Arbor Public Schools. Revenue is deposited into the district's general fund for operations. Michigan Event Parking, which manages the lot for the district, keeps 10.9 percent of revenue.
Parking spaces are $50 per vehicle and $250 per RV, but Ann Arbor Public Schools raised the prices to $60 and $300 for the 2017 Ohio State game. Pricing is a contentious subject with patrons, who constantly harp about the high figures.
"I try to explain to them that the money goes to the Ann Arbor public school system," said Ed Miller, who manages game-day operations for Michigan Event Parking. "It's not like I'm getting rich here."
When Pioneer was built in 1956, the school district and the university made an agreement the lot would be used for football parking.
"We'd like to preserve that property and keep it available to people," Stead said. "We'll see long term what happens. We're a growing community, and that's a good thing."
The largest financial discrepancy in the past eight years occurred during the 2014 and 2015 seasons, coinciding with Brady Hoke's last year and Harbaugh's first. Michigan had seven home games in each season, but parking netted $745,740 in 2014 and just more than $1 million in 2015.
Michigan saw its 16-year streak of leading the nation in average home attendance snapped in 2014, when the Wolverines tumbled to 5-7. They averaged 104,909 in Michigan Stadium, a decline of 6,683 fans from the previous year. Attendance climbed again in 2015 to 110,168 per home game.
Michigan Event Parking began managing the lot for Ann Arbor Public Schools in 2008 and has a deal with the district through 2021. They handle parking passes, game-day parking, and all financial transactions. A staff of 25 employees cleans the lot on Sundays, with the grounds looking like no activity took place by noon.
Cleanup can take between four to eight hours. The longest postgame cleansing was the Michigan State game last season, topping 14 hours.
"People don't care. They leave the nastiest stuff behind because they don't have to clean it up," Miller said. "Camp toilet buckets are by far the worst thing we have to clean up. It's disgusting."
Another quandary is when Mother Nature unleashes a deluge of rain on Ann Arbor, which contributed to the extended cleanup time after the Michigan State game. The University of Michigan Golf Course, across the street from Michigan Stadium, parks cars on its grounds for home football games, unless weather conditions don't allow it.
The closure of the golf course directs more traffic to Pioneer, which sometimes loses spots on a large patch of grass.
"Our biggest hurdle is the weather," Miller said. "Mother Nature can tell us no, and that just turns it into a mess."
Michigan state law prohibits alcohol on the Pioneer campus. But on game days, police patrolling the lots aren't handing out tickets to every person with a Solo cup or koozie in their hand. Their main objective is to avoid rowdy behavior and underage consumption, two college football traditions that date back to Prohibition.
"The Ann Arbor Police Department has been a fantastic help and asset to all aspects of our operations," Miller said.
Penn State and Nebraska, with two proud and loyal fanbases, attract a significant number of RVs. Pennsylvania and Nebraska phone numbers begin popping up on Miller's phone months in advance of the game. On the other end is someone reserving space for an oversized motor coach.
An inquiry about parking for six coach buses was presented to Miller in June. He expects 100 RVs will roll into town Sept. 21 and 22 to see the Cornhuskers and Wolverines.
Just do him a favor and don't show up early.
"There are people who have parked their RVs in that lot since before I was doing this, and they have a sense of entitlement," Miller said. "They want to show up Friday at 5 p.m. You can't come in at that time and start cracking beers ready to go."
Contact Kyle Rowland at: krowland@theblade.com, 419-724-6110, or on Twitter @KyleRowland.