Injuries put Bowling Green in precarious position
9/10/2018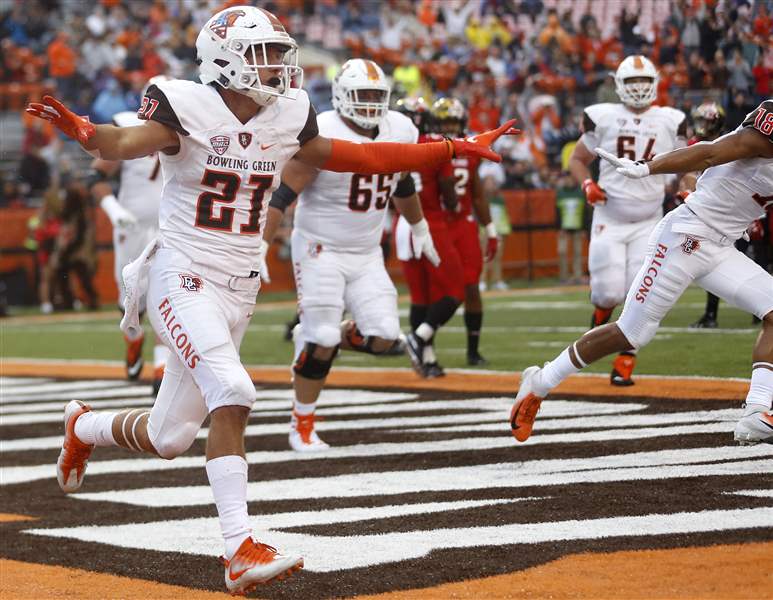 Bowling Green's Scott Miller, who has three touchdown receptions this season, is among the Falcons' injured players.
Blade/Kurt Steiss
BOWLING GREEN — Ahead of Saturday's game against Eastern Kentucky, a reporter asked Bowling Green coach Mike Jinks if he was worried about the Falcons looking past an FCS opponent.
Jinks' honest answer: The Falcons are too beaten up at the moment to overlook anyone.
Bowling Green's game against EKU brings the greatest test of its depth so far, and snapping a six-game home losing streak will depend on several new players embracing expanded roles.
"I'm going to have to have a lot of guys step up this week," Jinks said. "You talk about overlooking, but when your back's against the wall and you're a little bit limited, I think they'll be pretty focused and ready to go."
Leading receiver Scotty Miller pulled up with an apparent hamstring injury near the end of the Falcons' loss Saturday against Maryland, and Jinks said he does not expect Miller to practice any time soon.
Fellow receiver Julian Ortega-Jones, a true freshman, will be out for the season after sustaining a torn ACL.
Kick returner Ra'veion Hargrove also left the Maryland game and Jinks said Hargrove would be evaluated further this week.
The Falcons already are missing defensive end David Konowalski for the season, and now wait for a prognosis on starting linebacker Hassan Belton, who left the Maryland game as well.
Further, the Falcons' top two tight ends — Dorian Hendrix and Presley Motes — are injured, forcing BG into being creative with its personnel packages.
"We've got some injuries, we've got some guys that will be out this week," Jinks said. "Our back is against the wall, and other guys will have opportunities."
The Falcons converted defensive end Brian Sanders into a tight end, and he saw action after Hendrix departed Saturday's 45-14 loss.
Jinks said many defensive ends possess the body and athleticism to be tight ends, but there often is one notable exception.
"The defensive guys are always the more talented guys — they just really can't catch," Jinks said. "We're going to have to work a lot of ball drills with him."
The Colonels enter the game 1-1 after a 32-16 loss at Marshall last week.
Bowling Green has not won at Doyt Perry Stadium since defeating Buffalo in the final regular-season game of 2016. Injuries or not, Jinks said "the key to the season" is the Falcons changing their fortunes on their home field.
"If we don't take advantage of our home schedule this year, then we're not going to be very successful. It needs to start this week. It needs to start now," Jinks said. "There's always going to be a sense of urgency, but we need this one."
With five home games remaining, Jinks promised fans will see winning football at home this season.
"We'll do our part," Jinks said. "You've got a good football team to come out and support that's only going to get better each and every week.
"We'll get a lot of home wins, I promise you."
Contact Nicholas Piotrowicz at: npiotrowicz@theblade.com, 419-724-6110, or on Twitter @NickPiotrowicz.