"The U" still casts big shadow for UT players from Florida
9/11/2018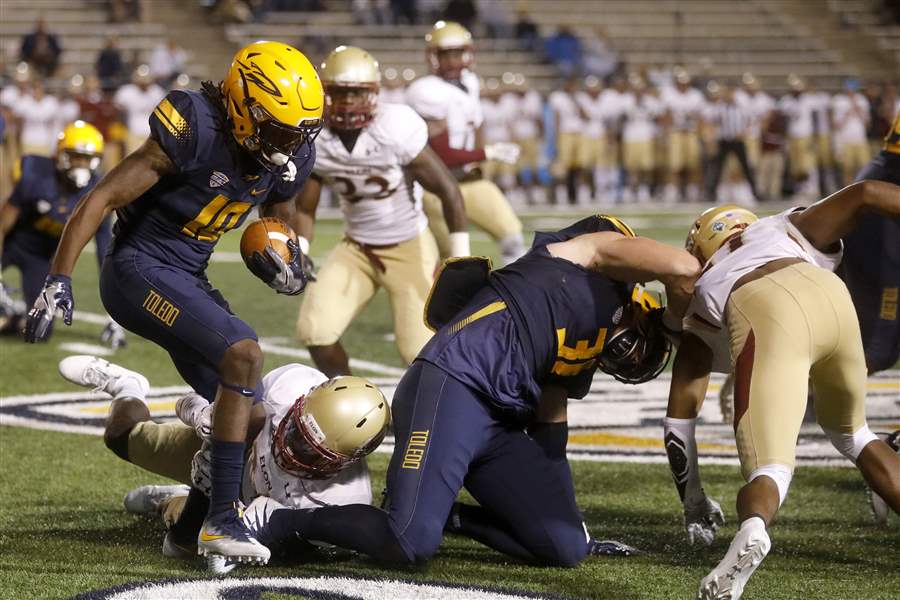 Toledo's Desmond Phillips was committed to play at Miami (Fla.) for a brief time before coming to UT.
BLADE/KATIE RAUSCH
University of Toledo junior receiver Desmond Phillips was a high school quarterback at Miami Jackson High School, playing in the shadow of the University of Miami, one of the most iconic college programs in the country.
Phillips, recruited as a slot receiver, committed to Toledo early in the recruiting process before flipping to his hometown Miami Hurricanes. He then changed his mind again, recommitting to the Rockets.
Phillips entrusted himself to Toledo coach Jason Candle, who was in his first year taking on head coaching duties. Phillips said when he re-pledged to Toledo, Candle pointed out to him there were two Miami (Fla.) games on the schedule.
WATCH: Desmond Phillips on upcoming game against Miami
"After I decommitted from Miami, I just went over the schedule with coach Candle," Phillips said. "Just seeing them on there twice it was a big opportunity. I was excited once he told me that and I got to see the schedule. I see that as a huge opportunity."
When Toledo hosts No. 21 Miami on Saturday at the Glass Bowl, they will do so with 16 players on their roster from the state of Florida and five from the Miami area.
And all have their thoughts on what it would have been like to play for what has become known as "The U." Using largely homegrown talent from the city of Miami, the program vaulted to national prominence in the 1980s, playing with a style that shocked the college football establishment and led to the creation of not one but two ESPN 30 for 30 documentaries. From 1983-2001, the team won five national championships.
For kids like Toledo safety DeDarallo Blue, a junior from Armwood High School near Tampa, playing college football for Miami is the ultimate goal growing up.
"Everyone really wanted to play for Miami because of all the big-time names and all the swagger they bring to the game," Blue said. "It's like a dream school for kids in Florida."
Florida has some of the best high school football talent in the country, so not everyone gets the chance to play for the big-time colleges in the state like Miami, or the University of Florida, or Florida State.
UT junior receiver Diontae Johnson went to Lennard High School in Ruskin, Fla., near Tampa. At 5-foot-11, he said he was overlooked by the in-state programs because of his size.
"Being from the state of Florida, Miami was one of my favorite schools growing up," Johnson said. "It's still my favorite school. I always wanted to play there growing up, so getting the opportunity to play against them is good because I get to prove them wrong on why they had mistaken me for my height or whatnot. Being able to play them is a blessing for me."
Playing the Hurricanes brings back memories for Phillips and Blue of going to games and watching them play big-time contests against teams like the rival Seminoles.
"It was a great experience going to games back when they were in the Orange Bowl," Phillips said. "Going to the games when they were played at the stadium were just some great memories for me and my family. We would always go there because my dad is a big Miami fan."
"I remember watching those Florida State and Miami games," Blue added. "Those two teams have a lot of history with each other. It goes back forever. A lot of kids like the way those teams play and the emphasis that they bring to the game."
While the game carries added significance for players from Florida like Phillips, Blue, and Johnson, Candle said he appreciates his players' ability to treat each and every game with the same focus and attention to detail.
"I'm sure it means a little bit more to them," Candle said. "But if that's who we are and that's why they came here, then I think we missed the boat and we missed the reasons why we are who we are. One thing I respect about our guys is that they take each and every week the same in their approach."
Candle did recognize this is not just any game in regards to the tradition of the opponent coming here, the buzz around the city, and the excitement of the players.
Like when Candle pointed out the Miami games on the schedule to Phillips, this is a game those around the Toledo program have anticipated since Miami agreed in 2010 to make a trip to the Glass Bowl.
"We know what's at stake," Blue said. "This is the game. Alabama and Auburn is that game. This is our game this year. That's a big opportunity for all of us. It's also going to put us on a different display for the country to see what we have been cooking up the past couple seasons."
Contact Brian Buckey at: bbuckey@theblade.com, 419-724-6110, or on Twitter @BrianBuckey.