Overlooked at first, Quintin Morris has star potential for BGSU
9/12/2018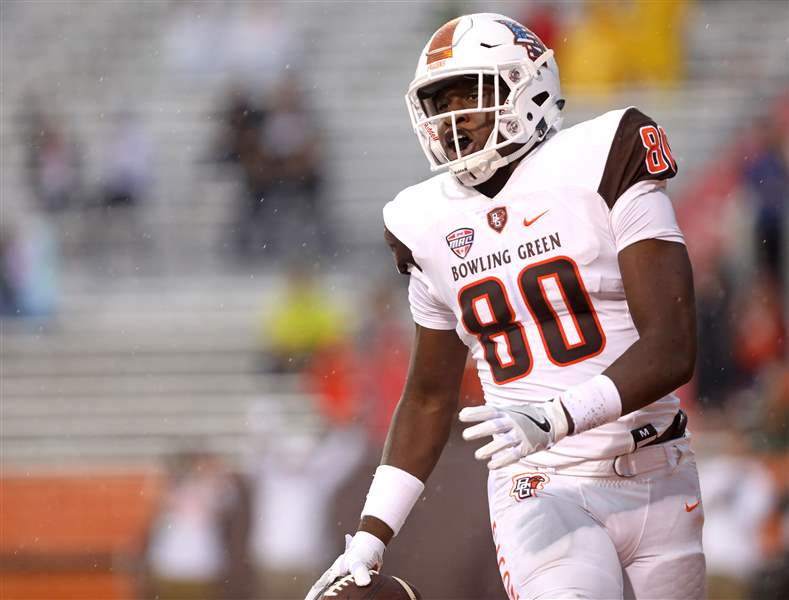 Bowling Green's Quintin Morris celebrates his touchdown catch against Maryland last week at Doyt Perry Stadium.
Blade/Kurt Steiss
BOWLING GREEN — Inside a Texas basketball gym, Mike Jinks' heart sank with each passing turn of the layup line.
The Bowling Green coach had a secret, and he was convinced there was just no way it would last until national signing day.
Bowling Green's Quintin Morris runs for a first down in the Falcons' game against Maryland.
A tip from Quintin Morris' high school coach led the Bowling Green staff to take a look at the wide receiver prospect, who wasn't receiving much attention from college programs. Jinks sent assistant Seth Doege to Richmond, Texas, to watch Morris. Doege took one look and reported back that Morris was, without a doubt, a Division I talent.
Bowling Green knew about Morris' potential — and as Jinks watched Morris put on a dunking exhibition before a basketball game, the coach was worried every major program in the Southwest would know as well.
"I saw him play basketball, and in warmups he threw down all these dunks," Jinks said. "I'm like, 'We're never getting this kid.'"
Luckily for Jinks, he was both right and wrong.
Morris indeed has a bright future as a wide receiver — but it will be in orange and brown.
RELATED: 2018 BGSU football schedule
Bowling Green was the first Football Bowl Subdivision school to offer Morris a scholarship, and the Texas native is now a key part of the Falcons' offense as a true sophomore this season. At 6-foot-4 and 223 pounds, Morris is big enough that Jinks toyed with the idea of playing him at tight end.
As a recruit, however, very few programs saw big-play potential in Morris the way Bowling Green did.
But one thing was for sure all along: He had the size.
"I used to play running back in junior high, and then I hit a growth spurt," Morris said. "When I hit high school, the coach told me the only way I'll ever play running back ever again is if I catch the ball and run to the end zone."
A few factors kept Morris out of the recruiting limelight. Morris sustained a few injuries, including a broken collarbone as a junior, and did not play football all year, opting for basketball and track in the off-season.
He also took a backseat as a tight end in a dominant rushing offense at George Ranch High School that featured Power Five running backs in Darius Anderson (now at TCU) and Alex Fontenot (Colorado).
Ricky Tullos, who coached Morris at George Ranch, promised all the recruiters that passed through that Morris deserved a longer look.
"You knew when he got older, when he was 20, 21 years old, he was going to have some NFL-type material," Tullos said. "There's still not a doubt in mind that his better days are ahead of him."
Jinks said he had a contingency plan in the event bigger schools tried to change Morris' mind about coming to BGSU. Morris received offers from Army, Navy, and New Mexico, among others, but major interest never arrived.
"I definitely have the utmost respect for coach Jinks, coach Doege, and the staff there for sticking with him," Tullos said. "Now they're reaping the benefits."
The Falcons see a potential matchup nightmare in Morris' sophomore season. He caught five passes for 85 yards and a touchdown against Maryland last week, and as BG refines Morris' skill as a receiver, the Falcons hope this is just the beginning.
His size will be an issue for most MAC cornerbacks, as Doege has discovered. When the receivers coach mimics a defender during drills, he said that it feels like Morris could break his arm when swatting away his hands.
"That's how big and strong he is," Doege said.
Already starting, Morris figures to become an even bigger part of the offense with leading receiver Scotty Miller uncertain for this week's game against Eastern Kentucky with an injury.
The Texas native might not have been popular as a high school prospect, but one of his foremost goals at Bowling Green is to alert everyone that they misjudged him.
"The first chance I get," Morris said. "Especially when we play those big-time schools, I live for that opportunity to show people they should have looked at you and make them feel guilty for not looking at you."
Contact Nicholas Piotrowicz at npiotrowicz@theblade.com, 419-724-6110 or on Twitter @NickPiotrowicz