41.61191
-83.60571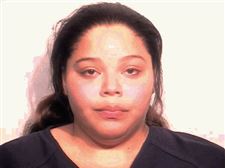 Tiara Collins.
A Toledo woman was arraigned in Toledo Municipal Court this morning, accused of leaving her child in a car while she grocery shopped.
Tiara Collins, 21, of 1009 Walbridge Ave., is charged with one count of child endangering. She was released on her own recognizance at the arraignment in municipal court, according to records.
According to an affidavit, Ms. Collins allegedly left her 2-year-old son alone in a vehicle for more than an hour while shopping at the Kroger at 2555 Glendale Avenue, near Detroit Avenue in South Toledo.
Guidelines: Please keep your comments smart and civil. Don't attack other readers personally, and keep your language decent. Comments that violate these standards, or our privacy statement or visitor's agreement, are subject to being removed and commenters are subject to being banned. To post comments, you must be a registered user on toledoblade.com. To find out more, please visit the FAQ.