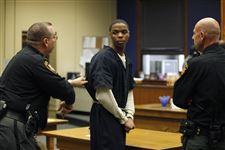 Reynard Lewis appears in Lucas County Common Pleas Court for the murders of Darnell Townsend-Tall and Raynail Gaiter. He faces life in prison.
The Blade/Andy Morrison
Enlarge | Buy This Image
Corrected version.
Standing before a Lucas County Common Pleas Court judge, Reynard Lewis admitted he used a 40-caliber pistol last year to gun down two men during separate robberies.
Lewis, 21, of 3815 Revere Dr. pleaded guilty Wednesday to two counts of murder for the Nov. 7, 2011, shooting deaths of Darnell Townsend-Tall and, three days later, Raynail Gaiter.
He faces life in prison with parole eligibility after 15 years for each count when sentenced Friday by Judge Gene Zmuda. As part of the plea agreement, Lewis' sentences will be consecutive, keeping him in prison for at least 30 years.
Lewis was one of six men arrested last November for the slayings. In court Wednesday, Lewis said little except to answer his lawyer's and Judge Zamuda's questions.
When attorney Drew Griffith asked if he knowingly used a handgun to shoot both Mr. Townsend-Tall and Mr. Gaiter while attempting to rob them, Lewis answered, "I did."
Supporters for Lewis as well as members of both victims' families were present in court during the plea. Prior to the hearing's conclusion, security officers cleared the courtroom after supporters of Lewis and Mr. Townsend-Tall exchanged comments.
Authorities said Lewis and co-defendants Darrick Newsome and Quandre Willingham went to Mr. Townsend-Tall's home on East Weber Street in North Toledo, where he was robbed of cash and shot twice in the head.
Three days later, the same trio plus co-defendants Kurt Finley, Samojay Edwards, and Kevin Arnold went to Mr. Gaiter's apartment in East Toledo's Ravine Park Village, where three of them forced their way inside.
The men demanded property of Mr. Gaiter and another man, Sotero Thompson. During the robbery, Lewis shot Mr. Thompson in the abdomen and Mr. Gaiter in the head, authorities said.
Lewis was originally charged with two counts each of aggravated murder, aggravated burglary, and felonious assault plus three counts of aggravated robbery, all with gun specifications. The aggravated-murder counts were reduced to murder, and the remaining counts are to be dismissed at sentencing.
Newsome, 19, of 3442 Beaumont Dr. faces similar charges and is scheduled for trial Nov. 26 before Judge Zmuda.
The four others charged in the robberies pleaded either guilty or no contest earlier this year to a variety of burglary, robbery, assault, and involuntary manslaughter charges.As part of their pleas, the men agreed to cooperate with authorities in the prosecution of co-defendants and additional charges will be dismissed.
Their sentencings are scheduled for Nov. 27 by Judge Frederick McDonald.
Guidelines: Please keep your comments smart and civil. Don't attack other readers personally, and keep your language decent. Comments that violate these standards, or our privacy statement or visitor's agreement, are subject to being removed and commenters are subject to being banned. To post comments, you must be a registered user on toledoblade.com. To find out more, please visit the FAQ.