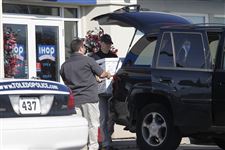 As part of the investigation authorities removed boxes of records from the International House of Pancakes restaurant on Talmadge Road in September, 2011.
The Blade
Enlarge | Buy This Image
The first of 18 people charged in a scheme involving illegal hiring practices at local International House of Pancake restaurants admitted her role Thursday in U.S. District Court in Toledo.
Sara Rinebolt, 48, of Findlay pleaded guilty to one count each of identity theft and of making false statements. Magistrate Judge James Knepp II accepted the plea but no sentencing was set.
Rinebolt was among those accused in a scheme involving the alleged employment of more than 200 illegal immigrants at seven IHOP restaurants in northwest Ohio.
The alleged scheme included forging work papers for employees, instructing managers to accept blatantly false documents, or, if no documents were available, fabricating paperwork or using another person's identity.
According to Assistant U.S. Attorney Duncan Brown, Rinebolt was a manager at the IHOP in Lima, Ohio, in May, 2010, when she used the Social Security number and birth date of one individual to help someone who was in the country illegally to obtain a job.
Mr. Duncan said Rinebolt then lied to federal agents in September, 2011.
The charges carry a maximum of up to 20 years in prison. Per the negotiated plea, Judge David Katz, who has been assigned the case, will have discretion in sentencing.
Attorney Lorin Zaner, who represents Rinebolt, said after the hearing that his client agreed to cooperate with the government as part of her plea agreement. Rinebolt declined to comment through her attorney.
"It's a sad situation," he said. "She had a job, she needed the job and to keep her job, she had to do what her boss said. She got caught up in something and had never been in trouble before."
The owner of the restaurants, Tarek Elkafrawi, awaits trial on multiple charges resulting from federal raids on the restaurants in September, 2011.
Mr. Elkafrawi was taken into custody May 23 after being indicted on charges of money laundering, alien harboring, mail fraud, health-care fraud, and use of fire or explosive to commit a felony, arson, aggravated identity theft, and identity theft.
He is in the midst of hearings to attempt to change his bond to allow him to be released pending trial.
Attorney Rick Kerger, who represents Mr. Elkafrawi said, "We continue to move toward trial and expect to prevail."
Co-defendant Lucky Williams, who is charged with one count each of alien harboring and identity theft, has a change-of-plea hearing scheduled for Tuesday before Judge Knepp. All other defendants have until Feb. 1 to file motions in their cases.
Contact Erica Blake at:
eblake@theblade.com
or 419-213-2134.
Guidelines: Please keep your comments smart and civil. Don't attack other readers personally, and keep your language decent. Comments that violate these standards, or our privacy statement or visitor's agreement, are subject to being removed and commenters are subject to being banned. To post comments, you must be a registered user on toledoblade.com. To find out more, please visit the FAQ.