Candidate jumps in race for judge
Perrysburg's Osterud retiring
1/15/2013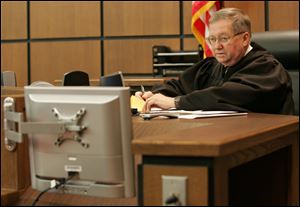 Judge S. Dwight Osterud in Perrysburg Municipal Court.
The election is nearly 10 months away, but the race is on for judge of Perrysburg Municipal Court.
Aram Ohanian, an assistant Wood County prosecutor who lives in Perrysburg, announced Monday that he plans to run for the judgeship that has been held for 23 years by S. Dwight Osterud. At least two others — Perrysburg City Councilman Tom Mackin and Northwood Mayor's Court Magistrate C. Drew Griffith — say they are considering a run.
Judge Osterud, 68, plans to retire when his term is up at the end of the year, although by law he could serve one more six-year term before the state's 70-and-over age limit would prohibit him from seeking re-election.
"I will have been here 24 years," Judge Osterud said. "I think it's time to leave. This really is a temporary job. You get to be judge for six years, and then you're re-elected, but it's still a temporary job."
He hopes to work as a visiting judge once he leaves the bench and said he would still like to be involved with the Law and Government Explorer post which he helped establish in 2001.
The post exposes area high school students to the court and other government functions and prepares them for mock trial competitions.
"I've had a very good run. I love this job," Judge Osterud said. "This is a single-judge court, so you pretty much do everything."
Mr. Ohanian, 44, said he began in 1992 as an intern in the public defender's office. After graduating from the University of Toledo College of Law in 1994, he worked as a public defender and later as a special prosecutor on cases there. He joined the Wood County Prosecutor's Office in 2003.
"For the past 20 years I've been practicing in that court," he said, adding that his experience as a defense attorney and prosecutor is valuable.
"When someone goes in front a judge it can be pretty intimidating," he said.
"It's good for someone to know the person they're going to be in front of has handled these issues before."
The court's jurisdiction includes the cities of Perrysburg, Rossford, and Northwood; Perrysburg, Lake, and Troy townships, and the villages of Luckey, Millbury, Stony Ridge, and Walbridge.
Mike Zickar, Wood County Democratic Party chairman, said he expects plenty of interest in the nonpartisan race.
"This is an open seat, and it's an important office," he said.
"It serves the northern part of Wood County so I think it's a challenging one to run a campaign in because you have so many different communities."
Petitions to run are due May 6 with the Wood County Board of Elections.
Contact Jennifer Feehan at: jfeehan@theblade.com or 419-724-6129.