Teen pleads not guilty in deaths of brothers
5/21/2013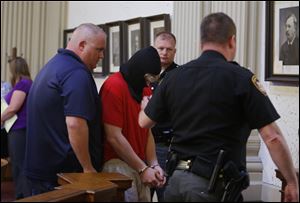 A hooded Michael Aaron Fay leaves Juvenile Court after appearing before Judge Michael A. Borer in connection to aggravated murder at the Putnam County Courthouse in Ottawa.
OTTAWA, Ohio - A teenager accused in the deaths of Blaine Romes and Blake Aaron Romes entered not guilty pleas today in Putnam County Juvenile Court on charges of delinquency in connection with aggravated murder.
Juvenile Judge Michael Borer ordered Aaron Michael Fay, 17, to be held in the Wood County Detention Center pending a certification hearing scheduled for June 18. The hearing is needed as the county prosecutor has requested to have the teenager tried as an adult in the cases.
The Fay youth is accused of killing Blaine, 14, and Blake, 17 in a trailer on North Perry Street, where he lived with his mother, the victims, and their mother.
Michelle Grothause reported her sons and the Fay youth missing on May 9 after finding the home empty, a blood trail from a bedroom to the back door, a handgun, and her vehicle missing.
After an Amber Alert was issued, the Fay youth was found at a gas station in Columbus with the vehicle and made statements that lead police to the locations of the bodies.