Witness: I saw suspect take swing at victim
Toledo man accused of fatal bar stabbing
8/21/2013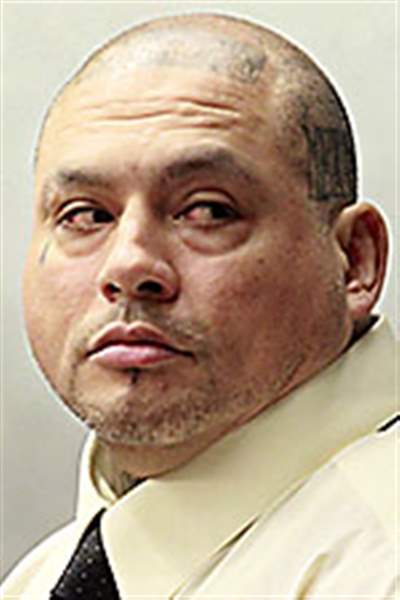 Alvarado
THE BLADE/AMY E. VOIGT
Buy This Image
Witness Charles Wells points to Hector Alvarado, Jr., 40, during Alvarado's trial before Lucas County Common Pleas Judge Frederick McDonald for murder and felonious assault stemming from the New Year's morning stabbing death of Christina Henderson, 23, outside the South Beach Bar.
Saying he knew enough to keep his eye on "the biggest guy in the bar," Charles Wells told a jury Wednesday in Lucas County Common Pleas Court that he watched as Hector Alvarado, Jr., took a swing at Christina Henderson during a full-blown bar fight early on New Year's Day.
Alvarado
"I seen him swing at her," Wells said. "She grabbed her neck and walked away."
Michael Bahner, an assistant Lucas County prosecutor, told the jury in opening statements that Ms. Henderson walked "159 feet and 6 inches" from where she was stabbed inside the former South Beach Bar and Grill out to her car, where she collapsed and bled to death within 10 minutes.
Alvarado, 40, of 637 Sterling St. is charged with murder in the Jan. 1 death of Ms. Henderson, 23, and felonious assault in the nonfatal stabbing of her fiance, Stacey Bowen, 26.
Mr. Bahner said much of what transpired at the Alexis Road bar that night was captured on surveillance video both inside and outside the bar — video that would show Ms. Henderson and Mr. Bowen together just before 2 a.m. when the fight broke out and would show a confrontation between Mr. Bowen and Alvarado.
The footage also would show what Wells described — "an almost full-scale riot in the bar" and Alvarado fleeing the bar with a Hispanic woman.
Wells, who conceded this was his first time on the witness stand but far from his first time in a courtroom, was questioned intensely by defense attorney John Thebes about whether he told police investigating the homicide the story he told the jury, whether he recalled telling a detective he didn't see anyone get stabbed that night.
Wells insisted he was telling the truth. He said he didn't know Ms. Henderson had been stabbed, only that he'd seen Alvarado holding a small object in his right hand and that he struck her with it. Alvarado, who has distinctive tattoos on his head, shook his head no as Wells testified.
"I'm not going to lie for nobody," Wells said when questioned further by prosecutors. "At that time, I didn't know it was a knife."
The jury was taken to the scene of the crime Wednesday morning before testimony began. The trial is expected to last three days.