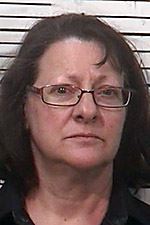 Sherman
WAUSEON — A Fulton County woman charged with trying to shoot to death her 15-year-old son faces up to 14 years in prison when she is sentenced later this year.
Candis J. Sherman, 57, of rural Delta, Ohio, pleaded guilty Tuesday to attempted aggravated murder with a firearms specification in Fulton County Common Pleas Court before Judge James Barber. As part of a plea agreement, a charge of attempted murder is to be dismissed at sentencing.
Sherman, who has been held at the Corrections Center of Northwest Ohio near Stryker since the shooting, was arrested July 21 after authorities were called to her home on State Rt. 109 in Fulton County's Swancreek Township.
Just after 9:30 a.m., 15-year-old Logan Sherman called 911 reporting, "My mom just shot me." According to the Fulton County Sheriff's Office, which investigated the incident, the teen had been shot in the arm and the back area. Investigators provided few other details about what occurred or why.
On July 2 — less than three weeks before the shooting — Sherman's husband, Michael Sherman, 52, died at Mercy St. Vincent Medical Center from what the Lucas County Coroner's Office said was a tear in his aorta known as an aortic dissection. According to his obituary, he was a mental health professional who had married Sherman in 1993. Logan was listed as his only child.
In a brief statement on Wednesday, Fulton County Prosecutor Scott Haselman said Sherman had "attempted to kill her son by shooting him with a handgun." A representative from his office said he would make no further comments until after the sentencing.
Fulton County Sheriff Roy Miller did not return phone calls seeking comment. Sherman's defense attorney, Amber VanGunten, also could not be reached for comment.
Judge Barber ordered a presentence report Tuesday but did not set a sentencing date.
Contact Jennifer Feehan at: jfeehan@theblade.com or 419-213-2134.
Guidelines: Please keep your comments smart and civil. Don't attack other readers personally, and keep your language decent. Comments that violate these standards, or our privacy statement or visitor's agreement, are subject to being removed and commenters are subject to being banned. To post comments, you must be a registered user on toledoblade.com. To find out more, please visit the FAQ.