Inmate gets 8 more years for severe attack of guard
3/7/2014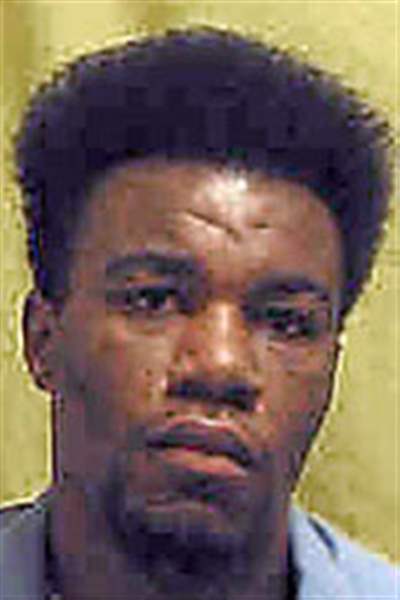 Perry
An inmate at Toledo Correctional Institution whose attack put a corrections officer in intensive care was sentenced to eight years in prison Thursday for the unprovoked attack inside the prison.
Lucas County Common Pleas Judge Ruth Ann Franks cited his "disturbing violent history of offenses" when she ordered that Marquise Perry, 28, serve those eight years consecutive to the sentences he already is serving for involuntary manslaughter and attempted murder ordered from Franklin County.
The latest sentence also will be consecutive to the sentences imposed for seven other felony convictions he has received while an inmate at various state prisons.
Perry, who has been involved in altercations in the Lucas County jail since he was transferred there three months ago, pleaded guilty Feb. 25 to felonious assault for the attack on corrections officer Sarah Roggelin as they passed on a stairwell Nov. 23.
Lindsay Navarre, an assistant Lucas County prosecutor, said Ms. Roggelin was knocked unconscious with the first blow, but Perry continued to pummel her, punching her at least 17 times. The incident was caught on videotape.
With a large number of family, friends, and co-workers in the courtroom, Ms. Roggelin told the court how that attack had damaged her physical and mental health as well as her ability to work.
She said she was going down the stairs and Perry came up with his fists clenched, "a power and intimidation game" Perry liked to play.
Ms. Roggelin, who has not returned to work, called Perry a coward in court, prompting his attorney, Pete Rost, to object to the personal attack. Judge Franks allowed it, and Perry himself said, "Let her finish."
"You, inmate Perry, will never change," Ms. Roggelin said. "You will always be a violent predator that relies on scare tactics to get your way. You need to be locked in a cell 23 hours out of everyday, where the only person you can hurt is yourself."
Before imposing the maximum sentence, Judge Franks noted that prison guards do not carry guns.
"They walk really with a careful foot, watching each other in such a dangerous situation," she said. "Clearly this defendant, by his conduct, not by word, but by his conduct has told corrections facilities that he's violent, he's dangerous, he's focused on hurting other people."
As he was led out of the courtroom, Perry stared down the victim and called her a bitch.
TCI Warden Edward Sheldon, who attended the sentencing, said he was proud of the way Ms. Roggelin presented herself in court.
"She represented the institution and the state well," he said. "I think inmate Perry showed in court what our staff deal with on a daily basis, day in, day out."
Contact Jennifer Feehan at: jfeehan@theblade.com or 419-213-2134.