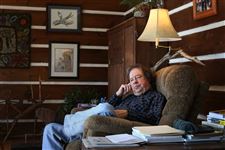 Daniels Arnett, in his Petersburg, Mich., home, is founding an organization to fight for the protection of abused and deceased children and for justice on their behalf.
The Blade/Katie Rausch
Enlarge | Buy This Image
He can think of no victims more helpless or voiceless than children whose lives are cut short at the hands of adults entrusted with their care.
Daniels Arnett, a Dana Corp. retiree from Petersburg, Mich., said he has followed child-homicide cases for years with a mounting sense of frustration over the crimes' sheer brutality, followed by what all too often seem like light sentences for those who cause their deaths.
"I just don't understand how you can treat any living thing the way they treat these children," said Mr. Arnett, a father of four grown children.
"There's just case after case in the Toledo area as well as Monroe and all over southeast Michigan," he said. "It happens more often than one could imagine and is much more horrific. In essence, I think it's somewhat of an epidemic that goes unnoticed by the public."
Mr. Arnett is looking for like-minded people from across the area to help him launch a group he is calling Ally for Broken Children. It would be an organization that would advocate for stiffer sentences for those convicted of murdering children, attempt to speak on their behalf before sentences are imposed, and educate the public to be alert for signs of abuse and report it.
"Anybody who wants to do anything gets kudos from me," Lucas County Prosecutor Julia Bates said of the effort, adding that child-abuse prevention is key.
Dean Sparks, executive director of Lucas County Children Services, said he certainly shares Mr. Arnett's outrage over child homicides, but he understands that cases are complicated — that caregivers rarely intend to kill a child.
"I've been in this 35 years, so I've seen a lot of child fatalities, and generally those child fatalities happen because somebody was stupid, somebody was frustrated, somebody was high or drunk, or something else like that," Mr. Sparks said.
Ohio law allows prosecutors to seek the death penalty when a murder victim is under the age of 13, but it must be proven that the murder was premeditated — something that is unusual in these cases.
Currently, there are charges relating to children's deaths pending in Ottawa, Hancock, Defiance, and Erie counties. In Lucas County, 26-year-old Amanda Bacon was convicted Friday of murder and child endangering in the 2012 death of her 6-month-old son, whose head was bashed in, according to prosecutors. She faces life in prison when sentenced Thursday.
In Monroe County, where Mr. Arnett lives, an 18-year-old man who shook his 6-week-old infant nearly to death last year pleaded no contest to first-degree child abuse and was sentenced to nine years in prison with the agreement that he would not face additional charges if the baby's condition changed. The youngster died in January.
Nine years, Mr. Arnett says, does not seem like nearly enough of a punishment.
"Now the prosecution says it's looking into it, but I think that's just to ease the public's mind," he said, adding, "That's what this group would zero in on keeping the prosecutor's feet to the fire, saying, 'Are you looking into this?' "
Two other recent cases that screamed of injustice, Mr. Arnett said, occurred in Wood County.
In December, Nathan Brenner was sentenced to 11 years in prison after conviction on two counts of endangering children for the injuries that led to the death of 2-year-old Emma Zehnpfennig, his girlfriend's daughter.
In the case of 3-month-old Carter Steinmiller, who prosecutors said was injured repeatedly almost since the day he was born, his father, Brian Steinmiller pleaded guilty to involuntary manslaughter and two counts of endangering children. Though prosecutors recommended a 10-year sentence as part of the plea agreement, Wood County Common Pleas Judge Robert Pollex imposed 14 years, saying abuse the baby suffered was atrocious.
The child's mother, Rebecca Steinmiller, received three years in prison for failing to protect her young son.
Wood County Prosecutor Paul Dobson, who approved the plea deals, said sometimes such plea agreements are simply the best outcome.
"I agree 100 percent absolutely [with Mr. Arnett] because I believe that someone should get more time, not less time, for doing what they did to a child," he said. "But I also have to work within the confines and constraints of what the legal system is, and people are not going to be any happier if that guy walks free."
Sending a defendant to prison even for a seemingly short sentence is, in some cases, a more just outcome than risking an acquittal at trial because of a lack of witnesses, problems with evidence, finger-pointing by the caregivers, and expert witnesses called by the defense to challenge the state's experts, he said.
Mrs. Bates agreed that the cases can be difficult because investigators often lack evidence that enables them to conclusively say who caused the fatal injuries.
In December, she approved plea agreements with the mother of Elaina Steinfurth, a missing East Toledo toddler whose remains were left in a garage to decompose, and the mother's boyfriend, Steven King. She said it was the only way to find out what happened to the child and punish those responsible.
"It's about the right person being held accountable," she said. "It's a search for the truth."
Angela Steinfurth and King were given life sentences. She will be eligible for parole after serving 18 years in prison; he will be eligible for parole after 25.
Another life sentence was imposed in Lucas County last year for Kenisha Pruitt, who admitted she submerged her newborn baby in a water-filled bathtub, then tied a shoelace around his neck until he was dead. Her boyfriend, Antonio Cervantes, received a 15-year sentence for putting the corpse in a freezer and leaving it there when the couple moved.
"These children are alone," Mr. Arnett said. "There are no people in their corner supporting them or crying for justice."
Anyone interested in getting involved with Mr. Arnett's effort may contact him at allyforbrokenchildren@gmail.com.
Contact Jennifer Feehan at: jfeehan@theblade.com or 419-213-2134.
Guidelines: Please keep your comments smart and civil. Don't attack other readers personally, and keep your language decent. Comments that violate these standards, or our privacy statement or visitor's agreement, are subject to being removed and commenters are subject to being banned. To post comments, you must be a registered user on toledoblade.com. To find out more, please visit the FAQ.