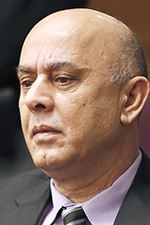 Abou-Arab
Saying the court did not want to restrain the press, Lucas County Common Pleas Judge Frederick McDonald ruled Thursday that the Oregon man charged with setting a fire that killed two Toledo firefighters may appear in court unshackled and in civilian clothing.
The judge said he considered ordering the media not to film or photograph Ray Abou-Arab when he is restrained, but decided instead to order sheriff's deputies and court security to bring him through courthouse hallways and into his courtroom unshackled.
Mr. Abou-Arab, 61, of 1311 Sierra Dr. could face the death penalty if convicted on charges stemming from the Jan. 24 fire at a Magnolia Street apartment building that killed fire Pvts. Stephen Machcinski, 42, and James Dickman, 31. He is charged with two counts of aggravated murder, each with death penalty specifications; two counts of murder; eight counts of aggravated arson, and one count of tampering with evidence.
Defense attorneys had asked the judge to allow him to wear civilian clothing rather than a jail jumpsuit and to appear without handcuffs and leg shackles.
"If Defendant appears in prison clothing at any pre-trial proceeding covered by either television or print media, and is displayed to prospective jurors in prison clothing, they will naturally be led to doubt the presumption of innocence and Defendant's constitutional rights to a fair trial will be undermined," attorney Sam Kaplan wrote in a motion.
Prosecutors did not oppose the motion.
Also Thursday, Judge McDonald scheduled Mr. Abou-Arab's jury trial for Oct. 27 even though defense attorney Pete Rost said the extensive scientific evidence and testing involved could keep the case from being ready for trial by then.
"I understand there are a lot of moving parts in this case, but I would like to set a trial date to work toward," the judge said.
In a separate case, Mr. Abou-Arab is charged with two counts of trafficking in a controlled substance for allegedly selling a synthetic marijuana product at a cellular phone store. His son, Omar Abou-Arab, 34, of 3552 Lynnbrooke Lane, Oregon, is charged with two counts of complicity to trafficking in a controlled substance for allegedly directing customers to his father's business to purchase the products.
Although those cases are pending before Judge Stacy Cook, a trial date of Oct. 27 also was set Thursday for them.
Contact Jennifer Feehan at: jfeehan@theblade.com or 419-213-2134.
Guidelines: Please keep your comments smart and civil. Don't attack other readers personally, and keep your language decent. Comments that violate these standards, or our privacy statement or visitor's agreement, are subject to being removed and commenters are subject to being banned. To post comments, you must be a registered user on toledoblade.com. To find out more, please visit the FAQ.