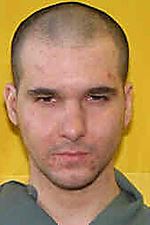 Richard Penque, 25, is currently serving a life sentence for a murder committed in Cuyahoga County.
A Lucas County Common Pleas Court judge is to announce a verdict May 12 in the case of a former Toledo Correctional Institution inmate who is charged with assaulting a guard at the prison and a sheriff's deputy at the Lucas County jail.
Richard Penque, 25, who is serving a life sentence for aggravated murder from Cuyahoga County, is charged with assault for the April 2, 2013, incident at the Toledo prison.
He also is charged with two counts of assault and one count of possession of a deadly weapon while under detention for an incident Jan. 11 at the county jail. In that case, he allegedly punched Deputy Pat Mangold. Deputies also said they found a toothbrush sharpened into a shank in his jail cell.
The four-day bench trial before Judge Myron Duhart concluded Thursday.
Guidelines: Please keep your comments smart and civil. Don't attack other readers personally, and keep your language decent. Comments that violate these standards, or our privacy statement or visitor's agreement, are subject to being removed and commenters are subject to being banned. To post comments, you must be a registered user on toledoblade.com. To find out more, please visit the FAQ.