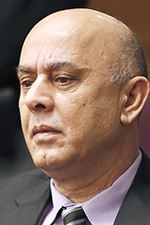 Abou-Arab
THE BLADE
Enlarge | Buy This Image
Attorneys for accused arsonist Ray Abou-Arab are seeking to get the death penalty specifications dropped from his charges, arguing prosecutors have not produced evidence that he meant to kill anyone in the Jan. 26 Magnolia Street apartment fire that left two firefighters dead, according to court filings.
Mr. Abou-Arab, 61, of 1311 Sierra Dr., Oregon, is being held in the Lucas County jail on two counts of aggravated murder, each with death penalty specifications; two counts of murder; eight counts of aggravated arson, and one count of tampering with evidence for allegedly setting fire to the property he owned.
While prosecutors and defense attorneys are barred by the court from discussing the case with the media, a flurry of motions filed by defense attorneys Samuel Kaplan and Peter Rost Friday seek, among other things, a dismissal of the death penalty specification included in Mr. Abou-Arab's 13-count indictment and disclosure of the grand jury testimony that led to that indictment.
Court documents also revealed that experts hired by the defense attorneys are scheduled to inspect the Magnolia Street apartment building today.
Mr. Abou-Arab, they wrote in the motion, is charged with two counts of aggravated murder that allege he "purposely" caused the death of Pvts. Stephen Machcinski, 42, and James Dickman, 31, while committing aggravated arson.
"Incredibly, nothing yet provided in the course of discovery suggest directly, impliedly, or by logical circumstantial inference that … there was ever in any person a specific intention to purposely cause the death of two firemen," the motion states.
Defense attorneys wrote that the primary detective assigned to the investigation, Deborah Hahn, made statements while interrogating Mr. Abou-Arab on Jan. 27 such as, "I don't believe that you intentionally wanted to kill somebody, but that's the result," and "Nobody would have thought something like this could happen."
Attorneys are asking Judge Frederick McDonald to either order prosecutors to disclose the grand jury testimony or to inspect the testimony himself and provide the pertinent information to the defense.
"It appears … that great efforts by law enforcement personnel have been dedicated to identifying a possible motive to attribute to [Mr. Abou-Arab] at trial and that that motive is decidedly not a purpose to kill two or more firemen but instead strictly financial," the motion states. "... If such is the case, defense counsel needs to know forthwith in order to effectively prepare a defense."
In addition to allegedly causing the death of the firefighters, Mr. Abou-Arab is charged with causing injuries to three other firefighters — named in a bill of particulars as George Simko, Ronald E. Magers, and Ronald J. Kay — and to three occupants of the building, Tracy Bishop, James Brooks, and Patricia Rollins.
Contact Jennifer Feehan at: jfeehan@theblade.com or 419-213-2134.
Guidelines: Please keep your comments smart and civil. Don't attack other readers personally, and keep your language decent. Comments that violate these standards, or our privacy statement or visitor's agreement, are subject to being removed and commenters are subject to being banned. To post comments, you must be a registered user on toledoblade.com. To find out more, please visit the FAQ.