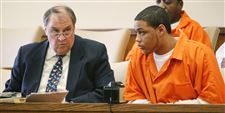 Attorney Martin Dow, left, and Adam Anderson, await his sentencing in Lucas County Common Pleas Court. Anderson was sentenced Monday to 22 years in prison for his role in the May, 2013, home invasion that resulted in the death of James Safadi.
THE BLADE/JETTA FRASER
Enlarge | Buy This Image
Adam Anderson may have only intended to steal from James Safadi, but in the end, Mr. Safadi was robbed of his life.
For Anderson's part in last year's deadly Waterville Township home invasion, Lucas County Common Pleas Judge Myron Duhart sentenced the 20-year-old Monday to 22 years in prison — the maximum term.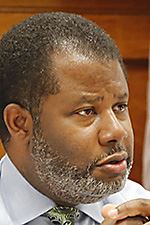 Duhart
THE BLADE
Enlarge | Buy This Image
"This was a vicious act, an act that was conceived albeit by another individual, but you were involved and involved heavily," Judge Duhart said. "By virtue of the fact of your candor, you might be in a different position in which you would be facing life in prison."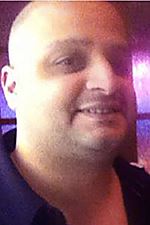 Safadi
Anderson of 2436 Fulton St. had been indicted for murder, felonious assault, and aggravated burglary but pleaded guilty May 19 to aggravated burglary and involuntary manslaughter for the May 18, 2013, shooting death of Mr. Safadi, 34, at his South River Road home.
Anderson admitted he broke into Mr. Safadi's home through a basement window with co-defendants Phillip Allen, Jr., 23, and James Allen, 19.
Anderson said he held Mr. Safadi's girlfriend at gunpoint while the other two robbed and shot the victim.
Both Phillip and James Allen pleaded guilty to complicity to aggravated murder and were sentenced to life in prison with parole eligibility after 25 years.
A fourth man, Ronald Rooker, 33, who admitted he solicited the three men to rob his neighbor, faces an agreed-upon prison term of 25 years when he is sentenced today. He pleaded guilty May 19 to complicity to involuntary manslaughter, complicity to aggravated burglary, and complicity to aggravated robbery.
Anderson's attorney, Martin Dow, asked the court to consider a sentence of less than the maximum allowed, saying Anderson had cooperated with investigators and admitted his role.
"I don't think he ever had any idea how serious or disastrous the consequences" would be, Mr. Dow said. He said Anderson was "a pretty nice kid. ... He'‍s just a big, baby-faced kid."
Anderson told the court he was sorry to Mr. Safadi's family, sorry to his own family, and sorry to the court for the incident. He said he was doing his best and trying to get a job to help support his family when he got involved in the break-in.
Judge Duhart called the crime senseless.
"I'm not sure you got anything out of this, and whatever minor thing you may have gotten — was it worth it?" the judge asked.
"No, sir," Anderson replied.
Contact Jennifer Feehan at: jfeehan@theblade.com or 419-213-2134.
Guidelines: Please keep your comments smart and civil. Don't attack other readers personally, and keep your language decent. Comments that violate these standards, or our privacy statement or visitor's agreement, are subject to being removed and commenters are subject to being banned. To post comments, you must be a registered user on toledoblade.com. To find out more, please visit the FAQ.