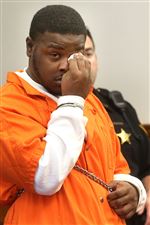 Tyrone Hoskins, Jr., wipes a tear from his eye while entering his guilty plea Monday to reckless homicide with a firearms specification in the Feb. 2 shooting death of Michael Williams during a chaotic scene outside an after-hours club.
THE BLADE/KATIE RAUSCH
Enlarge | Buy This Image
Murder charges were dropped Monday against two alleged gang members after one of them pleaded guilty to a reduced charge of reckless homicide.
In what was described as a chaotic scene outside an after-hours club Feb. 2, Tyrone Hoskins, Jr., 23, of 618 Woodland Ave. admitted Monday in Lucas County Common Pleas Court that he fired a gun from behind a car but did not intend to shoot Michael Williams, Jr., 24, whom he considered a friend.
Mr. Williams had walked up to the Ottawa Drive club firing a gun, Hoskins said, prompting him to take cover behind a car that was soon hit by a bullet.
"I just started shooting and a bullet ricocheted and killed him," Hoskins told the court. "I had no idea. I heard later on that he had died, but I still had no idea that I was the one that killed him."
He said he did not know how many times he fired.
"I was just shooting because I was scared and trying to protect myself," Hoskins said.
He pleaded guilty to reckless homicide, a third-degree felony, and a firearm specification as part of an agreement that called for a three-year prison sentence. Charges of murder and participating in a criminal gang were dismissed as part of a plea agreement.
Before finding Hoskins guilty and imposing the three-year sentence, Judge Gary Cook watched a brief security-camera video from the crime scene that showed the victim firing a gun as well as shots coming from four or five unidentified individuals.
Matt Simko, an assistant Lucas County prosecutor, told the court the plea agreement was the result of evidentiary concerns in the case, which was based largely on witness statements.
The judge read a letter from Mr. Williams' mother, Felicia Williams, who said she knew her son was no saint, but he had two daughters, six brothers, and a sister who loved him.
"God has walked me through this journey, and I have my closure," Mrs. Williams said. "I don't want any more violence."
Judge Cook also dismissed murder and gang charges pending against Hoskins' co-defendant, Rishad Williams, 21, of 421 W. Manhattan Blvd.
Defense attorney Ronnie Wingate said Hoskins would be eligible to apply for early release after serving 18 months, although Judge Cook told him he doesn't often grant judicial releases.
"I would fairly look at your situation," the judge said, adding that he would consider his behavior record in prison as well as the facts of the case.
Standing with his grandchildren outside the courtroom after the hearing, Tyrone Hoskins, Sr., said the children are the reason his son entered the plea agreement. He could have faced a life sentence if convicted of murder.
"We were scared for the fact of what we were risking," Mr. Hoskins said.
Contact Jennifer Feehan at: jfeehan@theblade.com or 419-213-2134.
Guidelines: Please keep your comments smart and civil. Don't attack other readers personally, and keep your language decent. Comments that violate these standards, or our privacy statement or visitor's agreement, are subject to being removed and commenters are subject to being banned. To post comments, you must be a registered user on toledoblade.com. To find out more, please visit the FAQ.