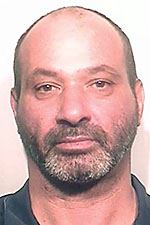 Hatfield
A Curtice, Ohio, man who was banned from driving following a fatal drunken-driving crash pleaded no contest Tuesday to a felony charge of driving under a specified lifetime suspension.
Kevin Hatfield, 51, faces up to three years in prison when he is sentenced Aug. 19 by Lucas County Common Pleas Judge Frederick McDonald.
Patricia Wardrop, an assistant Lucas County prosecutor, told the court Hatfield was convicted by a jury of aggravated vehicular homicide in 1994, and as part of his sentence, received a lifetime driver's license suspension.
"On Feb. 6, 2014, Kevin Hatfield was stopped for a traffic violation in the 2200 block of Navarre Avenue," Ms. Wardrop said. "At that time it was discovered that he was in fact driving under a lifetime suspension."
Judge McDonald found him guilty and ordered that he remain free on bond until sentencing.
Hatfield's attorney, Larry DiLabbio, said that his client had few options under the circumstances.
"He really had no options but to enter the plea under the charge and the facts, but it was something over the years that he was attempting to address in various ways with various lawyers," he said.
Hatfield served nearly 6½ years of a 5-to-10-year sentence for aggravated vehicular homicide. The charge stemmed from a May 15, 1993, crash in which Sharon Nagy, 32, of Toledo was struck and killed while crossing Lagrange Street.
In 2001, not long after Hatfield was released from prison, another attorney filed a motion with the court to modify his license suspension, but it was denied.
In 2005, Hatfield contacted the legal section of the Ohio Department of Public Safety to see about getting his license reinstated, Mr. DiLabbio said. In 2009, Hatfield wrote a letter to then-Common Pleas Judge James Jensen to ask for help.
Mr. DiLabbio said Hatfield had been working to keep his father's roofing business going and primarily drove for work.
"During the times he drove, at no time did he really have any substantial traffic violations, never any alcohol, never any drugs," he said.
Police reports said that when Hatfield was stopped Feb. 6, he said he was driving to Mercy St. Charles Hospital, despite the fact that he had a licensed driver in the car with him.
Contact Jennifer Feehan at: jfeehan@theblade.com or 419-213-2134.
Guidelines: Please keep your comments smart and civil. Don't attack other readers personally, and keep your language decent. Comments that violate these standards, or our privacy statement or visitor's agreement, are subject to being removed and commenters are subject to being banned. To post comments, you must be a registered user on toledoblade.com. To find out more, please visit the FAQ.