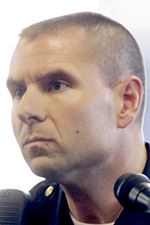 Reidy
THE BLADE
Enlarge | Buy This Image
With 12 hours of road patrol behind them Saturday and heading into another four working an off-duty project, Lucas County sheriff's Deputies Frank Reidy and Chris Archer first decided to check on an illegally parked recreational vehicle in downtown Toledo.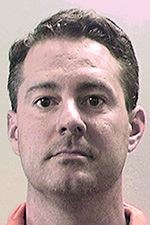 Sobeck
The RV with Michigan license plates was parked on Lafayette Street, near South St. Clair Street, and obstructing the view of a stop sign.
"We checked on the RV to see if anyone was in there and a small child answered the door," said Deputy Reidy, a 20-year veteran of the department. Inside were five children, ages 3 to 14, and their father, Phillip Sobeck, 37, of Royal Oak, Mich., who was unconscious and unresponsive, according to a report about the Saturday night incident.
Mr. Sobeck was eventually arrested and charged with five counts of child endangering. He remained in the Lucas County jail until Monday after his arraignment when he posted a $15,000 bond. During the arraignment, Mr. Sobeck pleaded not guilty to all charges. A next court date has not been set. According to an affidavit filed in Toledo Municipal Court, Mr. Sobeck smelled of alcohol. The deputies' report states he was unable to stand without help.
The children told the deputies they were spending the weekend with their dad and had, earlier, been to the zoo. On their way to the Mud Hens game, their father was reportedly "driving erratically" and the oldest child convinced him to pull over, Deputy Reidy said.
The 14-year-old then took his father's keys and the youngsters waited, watching television. They eventually reached their grandparents who were coming to get them, but the adults were more than an hour away. The children were unable to find medication in the RV for the youngest child, a cancer patient, Deputy Reidy said.
The five children each had a ticket for the baseball game, which was part of an organized Cub Scouts outing, so, once backup arrived, the deputies loaded the kids into their patrol car, drove them to the stadium and found a woman from their church, also there for the outing.
Before saying goodbye, the deputies gave the children about $50 — pooled from Deputies Reidy, Archer, Scott Rhodus, and Sgt. Ephron Linzy — for snacks.
"You just do what you can," Deputy Reidy said. "So much of what we do is negative — police come, someone goes to jail. There's always a negative connotation. I'm a dad … so it's just kind of like the dad takes over and you want to take care of the kids."
The grandparents eventually made their way to Toledo and the officers were able to reunite them with the five children, Deputy Reidy said.
"It's just about helping people. That's why we do what we do," he said. "That's why I became a deputy."
Contact Taylor Dungjen at tdungjen@theblade.com, or 419-724-6054, or on Twitter @taylordungjen.
Guidelines: Please keep your comments smart and civil. Don't attack other readers personally, and keep your language decent. Comments that violate these standards, or our privacy statement or visitor's agreement, are subject to being removed and commenters are subject to being banned. To post comments, you must be a registered user on toledoblade.com. To find out more, please visit the FAQ.