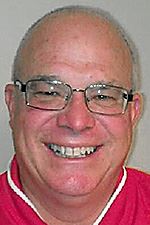 Theaker
Maumee city employee and school board member David Theaker has been charged with two counts of theft in office for stealing gasoline from the city, according to court records.
A complaint filed in Maumee Municipal Court said Mr. Theaker, 53, a supervisor in the service division, pumped 10 gallons of gas into two 5-gallon containers and took them home for personal use, while charging their price to the city of Maumee. The gas was valued at $34.99
Mr. Theaker acted while on duty as a city employee.
Theft in office is a fifth-degree felony.
Mr. Theaker is to appear Aug. 4 in Maumee Municipal Court for an arraignment.
The investigation is ongoing and the police report for the incident was not available on Friday. Mr. Thea-ker's current standing with the city and school board was not known.
Guidelines: Please keep your comments smart and civil. Don't attack other readers personally, and keep your language decent. Comments that violate these standards, or our privacy statement or visitor's agreement, are subject to being removed and commenters are subject to being banned. To post comments, you must be a registered user on toledoblade.com. To find out more, please visit the FAQ.