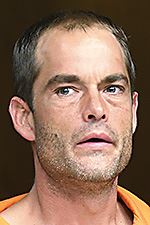 Reed
THE BLADE/JETTA FRASER
Enlarge | Buy This Image
Two men charged in unrelated robberies were ordered to remain in the Lucas County jail on Tuesday after appearing in Toledo Municipal Court.
Police suspect that Jonathan Reed, 38, of 3025 Glenn St. is a serial robber behind a string of grab-and-go robberies primarily in West Toledo. Reed is charged with four counts of robbery, although police said they suspect he was the culprit in at least four others. On the four pending charges, Reed was ordered to remain in the jail in lieu of $200,000 bond.
He is charged with the robberies of In & Out Mart, 2125 S. Byrne Rd., on Aug. 22; Rite Aid, 5765 Secor Rd., on Aug. 23; Stop & Go, 2345 W. Laskey Rd., on Aug. 24; and Monroe Pharmacy, 4122 Monroe St., on Aug. 25.
In each of the robberies, and four others in which a suspect has not been formally named, a man asked a clerk to either make change or approached the register to buy a snack. When the cash drawer was opened, the man reached into the register, took cash, and fled. No weapon was ever seen.
Reed was arrested Saturday, less than 24 hours after a robbery at In & Out Mart, 1619 W. Sylvania Ave., by a man who police said matched Reed's description. In that robbery, the man bought a box of candy, lunged over the counter when the drawer opened, and snatched some cash. He struggled briefly with the clerk and then with a customer who tried to intervene. Police said fingerprints left on the candy tie Reed to the case.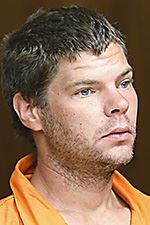 Phillips
THE BLADE/JETTA FRASER
Enlarge | Buy This Image
Also arraigned Tuesday was Bartholemew Phillips, 32, whom police report is homeless. Mr. Phillips is charged with robbery for a hold up Monday at Wendy's, 108 Main St. Police said a man went into the fast-food restaurant and demanded food. He was denied and then he demanded money. He fled the restaurant with nothing.
Mr. Phillips was ordered to remain in jail in lieu of $25,000 bond.
Contact Taylor Dungjen at tdungjen@theblade.com, or 419-724-6054, or on Twitter @taylordungjen.
Guidelines: Please keep your comments smart and civil. Don't attack other readers personally, and keep your language decent. Comments that violate these standards, or our privacy statement or visitor's agreement, are subject to being removed and commenters are subject to being banned. To post comments, you must be a registered user on toledoblade.com. To find out more, please visit the FAQ.