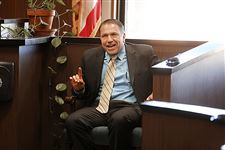 Hickey
THE BLADE
Enlarge | Buy This Image
Although she denied a school board member's request for a long-term protection order against former Superintendent Patrick Hickey, a magistrate on Thursday sent a message that the two should have no further contact.
At a brief hearing, Magistrate Gretchen Goranson Weston denied Patricia Carmean's petition for a civil protection order against Mr. Hickey, who Ms. Carmean claimed was harassing and threatening her.
Ms. Carmean alleged that a series of incidents since 2015 and, more recently, a series of Facebook messages Mr. Hickey sent to her had caused her mental distress.
"What I would like to stress to all of the parties involved is that the reason that this petition is being denied is because I'm not finding there to have been a pattern of conduct that meets the level of mental distress required by the statute, but that the most recent incident does," the magistrate said, referring to the Facebook messages. "So if there were to be another incident, this court would come to a different conclusion."
Both Ms. Carmean and Mr. Hickey are running for seats on the Washington Local school board.
Contact Jennifer Feehan at: jfeehan@theblade.com or 419-213-2134.
Guidelines: Please keep your comments smart and civil. Don't attack other readers personally, and keep your language decent. Comments that violate these standards, or our privacy statement or visitor's agreement, are subject to being removed and commenters are subject to being banned. To post comments, you must be a registered user on toledoblade.com. To find out more, please visit the FAQ.