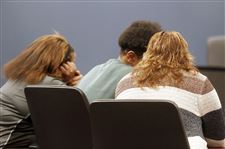 Attorney Ann Baronas, right, speaking with Emmannuel Garner. At left is the youth's mother.
THE BLADE/JETTA FRASER
Enlarge | Buy This Image
A 16-year-old boy accused of fatally shooting a woman and injuring another will be tried as an adult, a Lucas County Juvenile Court judge ruled Wednesday.
Emanuel Garner, 16, is charged with murder and felonious assault. Judge Denise Navarre Cubbon found probable cause that a crime occurred Sept. 24 in the 1800 block of MaComber Street. The youth's case is now being transferred to the adult division.
If convicted of murder, the teen could face 15 years to life in prison.
He is accused of shooting and killing De'Asia Wallace, 20, and injuring Tanaysia Young, 15, following a street brawl that broke out in the intersection of MaComber and Isherwood streets, according to Toledo police.
The Garner youth is believed to have fired multiple rounds from a residence in the 1800 block of MaComber Street, said Detective Paul Marchyok, who testified Tuesday during a probable cause hearing. The house sits several feet away from the road, he said.
Both women were standing in the front yard when they were shot, the detective said. Ms. Wallace collapsed on the sidewalk, where police attempted to administer aid to her, a video of the incident posted to social media showed. She later died at ProMedica Toledo Hospital.
A second shooter who wounded the Garner youth in the leg has not been charged, Detective Marchyok said.
Contact Allison Reamer at areamer@theblade.com, 419-724-6506 or on Twitter @AllisonRBlade.
Guidelines: Please keep your comments smart and civil. Don't attack other readers personally, and keep your language decent. Comments that violate these standards, or our privacy statement or visitor's agreement, are subject to being removed and commenters are subject to being banned. To post comments, you must be a registered user on toledoblade.com. To find out more, please visit the FAQ.