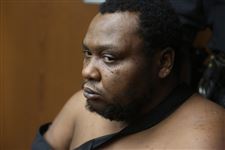 Jamaine Hill
The Blade/Amy E. Voigt
Enlarge | Buy This Image
With the clock ticking on Jamaine Hill's speedy trial rights, a Lucas County judge on Thursday went to the hospital to arraign the Toledo man accused of shooting and wounding a Toledo police detective.
Hill, 38, of the 4100 block of Caroline Avenue was arraigned by Lucas County Common Pleas Judge James Bates in Hill's room at the University of Toledo Medical Center — the former Medical College of Ohio hospital.
With his court-appointed defense attorney John Thebes present, Hill pleaded not guilty to seven counts of felonious assault, each with a gun specification, and one count of having a weapon while under disability.
The charges stem from the Nov. 16 shooting of Det. Jason Picking, who was shot in the mouth while assisting with the execution of a search warrant at Hill's home. Hill is accused of firing multiple shots through the front door at the detective and six other officers who were on the porch.
Hill's family members have said he thought the police raid was a break-in. Mr. Thebes declined to comment on the case.
Judge Bates set Hill's bond at $500,000 and scheduled his trial for Feb. 6.
Hill has been hospitalized for medical issues that pre-date his arrest on Nov. 16. Two Lucas County Sheriff's deputies are assigned to guard his hospital room.
Judge Bates said he decided to arraign Hill at the hospital so that Hill's speedy trial rights would not be violated. By law, a defendant must be brought to trial within 90 days of his arrest, unless he waives that right.
"I don't want to take any chances with such a high visibility case," the judge said.
Judge Bates said he's never done an arraignment in a hospital room, although he knows of judges who have. He said on occasion he's gone to the Lucas County jail to arraign a defendant who has been uncooperative about coming to court.
Contact Jennifer Feehan at jfeehan@theblade.com or 419-213-2134.
Guidelines: Please keep your comments smart and civil. Don't attack other readers personally, and keep your language decent. Comments that violate these standards, or our privacy statement or visitor's agreement, are subject to being removed and commenters are subject to being banned. To post comments, you must be a registered user on toledoblade.com. To find out more, please visit the FAQ.