A central city man is accused of following a woman from her residence and ramming her vehicle multiple times with his car over the weekend, according to documents filed in Toledo Municipal Court.
Lionel D. Anderson, 38, of the 800 block of Parkside Avenue is charged with felonious assault, a second-degree felony.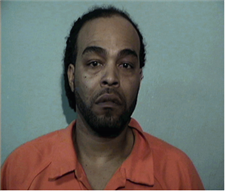 Anderson
Anderson was arraigned in Toledo Municipal Court on Monday, where a judge set bond at $250,000 at no percent, also with a GPS monitor. A temporary protection order was also filed.
Anderson is accused of sitting outside of a 24-year-old woman's home in the 2000 block of Clinton Street on Saturday until she came out of the residence and got in her car. He then followed in his vehicle when she began driving away, but he eventually began ramming her car, court documents show.
The woman traveled onto northbound I-75, and Anderson continued to follow and strike her car, according to police records. She made a U-turn on I-75 in Michigan and exited the expressway onto Alexis Road, police reported.
Anderson is accused of striking her car approximately 15 to 20 times, and he attempted to run the woman's car into a concrete median on the expressway and into oncoming traffic before her car was disabled, court documents show.
Toledo police responded to the area of Alexis Road and Detroit Avenue shortly after 11:30 a.m. Saturday, where her vehicle stopped, according to police. Bystanders reported the incident.
Anderson was arrested for the felonious assault charge, and the woman was arrested on an outstanding warrant, according to police.
Both vehicles were towed.
Bond was posted Monday. The case was continued to Feb. 8, according to court records.
Guidelines: Please keep your comments smart and civil. Don't attack other readers personally, and keep your language decent. Comments that violate these standards, or our privacy statement or visitor's agreement, are subject to being removed and commenters are subject to being banned. To post comments, you must be a registered user on toledoblade.com. To find out more, please visit the FAQ.