Bitcoin at center of Toledo fake ID case
2/8/2018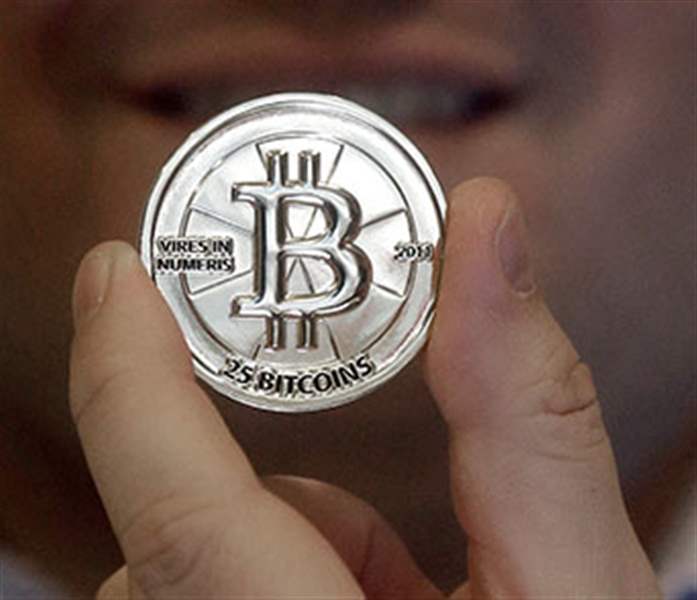 Bitcoin is one of more than 1,500 cryptocurrencies, which a University of Michigan assistant professor said are easy to launch and all operate in a similar way.
ASSOCIATED PRESS
When officers seized $4.7 million from a Toledo man accused of running an ambitious fake-identification ring, the currency didn't come in the form of legal U.S. tender.
Court records state the money taken from Mark Alex Simon, 34, existed as Bitcoin — a virtual currency not tied to any standard and difficult, but not impossible, for law enforcement to track.
"It's not particularly common, but there are people who do it," Cara Bloom wrote in a 2013 paper while a staff cyber researcher at Carnegie Mellon University.
Bitcoin is one of more than 1,500 cryptocurrencies, which a University of Michigan assistant professor said are easy to launch and all operate in a similar way.
Now, Mr. Simon is under arrest, with prosecutors alleging he used the online username "TedDanzigSR" to sell fake IDs over the popular website Reddit.com.
Bitcoin is one of more than 1,500 cryptocurrencies, which Andrew Wu, University of Michigan assistant professor of technology and operations and finance, said are easy to launch and all operate in a similar way.
"Its intrinsic value is basically zero," Mr. Wu said. "I could launch one in 20 minutes."
For that reason, he hesitated to call it a currency. He compared it to gold, something that sells for much more than its intrinsic worth.
RELATED CONTENT: Toledo man arrested, $4.7M in Bitcoin seized in large-scale fake ID case
VIDEO: Bitcoin explained
The peer-to-peer system means there is no central server that processes all transactions, unlike Paypal or other conventional online payment systems. That makes it easier to remain anonymous, though it makes for an inefficient payment system.
It could take over an hour to make a transaction, he said.
And while it is harder for law enforcement to track purchases with Bitcoin and other currencies, it is not impossible. The transaction ledger is public, Mr. Wu said, but the parties conducting the transactions are private, identified only by a numeric key.
"It's easy to track once you have the key," Mr. Wu said.
One high-profile example was the Federal Bureau of Investigation's shutdown of Silk Road, a dark-web black market that netted the federal government $18 million in Bitcoin in 2013, when the currency was significantly less valuable than it is today.
That case led to the arrest of Ross William Ulbricht on charges related to being the site's pseudonymous founder "Dread Pirate Roberts." He was eventually convicted on conspiracy, narcotics, and money-laundering charges, and in May, 2015 was sentenced to serve life in prison, according to court records.
A person active on the Silk Road under the username "TedDanzigSR" — the same online pseudonym Mr. Simon allegedly used to sell fake IDs on Reddit -— was active on Silk Road, and was among the most popular fake ID producers on the website.
"The Silk Road was the only way to run [the] business," Ms. Bloom said.
Once that was shut down by federal law enforcement, taking the fake ID business elsewhere increased the risk for TedDanzigSR, she said.
The Silk Road "really was this oddly safe part of the dark net," she said. Many conversations had multiple levels of encryption, and only used Bitcoin in a time where tracing the transactions was all but impossible.
Vendors on the Silk Road could blacklist disgruntled customers, giving them a greater degree of control over potentially compromising information customers shared.
On Reddit — the website where authorities believe Mr. Simon more recently connected with customers — a seller would have less control over what makes it onto the publicly accessible portions of the site, and additional communities that may not be tech-savvy enough to keep the private parts of the process, private.
"You're just going to let a lot slip," she said.
Bitcoin has gained more mainstream attention lately, too. In late 2017, its price soared on private exchanges. By early December, it was trading at around $10,500, after being worth roughly $1,000 at the beginning of the year.
A federal regulator gave the go ahead late last year to the CME Group to start trading bitcoin futures, the first time the digital currency could be traded on a Wall Street exchange.
In January, 2018, Bitcoin first experienced market gains — trading at more than $15,000 at the month's start — before slumping. By the first week of February it was again trading below $10,000 and continuing to drop.
Blade news services contributed to this report.
Contact Zack Lemon at zlemon@theblade.com, 419-724-6282 or on Twitter @zack_lemon.