Time's up: Cook brother does 20 years for heinous Toledo killing spree
2/9/2018
Nathaniel and Anthony Cook look over plea bargain paperwork during their sentencing at Lucas County Courthouse on April 6, 2000.
BLADE
In his own words, Nathaniel Cook admitted he shot Tom Gordon to death as the young man ran for his life. He admitted he strangled Connie Sue Thompson with a wire around her neck, and he admitted he dropped a cinder block on the head of Dawn Backes, ending her 12-year-old life.
UPDATED: Judge grants serial killer Nathaniel Cook release from prison
His chilling confession and that of his older brother, Anthony Cook, cleared up eight unsolved homicides; mysteries laid to rest as part of a deal.
The price?
Nathaniel Cook would serve just 20 years in prison — 20 years that end this Tuesday.
VIDEO: A look back at the Cook brothers case
The idea that one of the "Evil Brothers," as a detective dubbed them, may be released from prison is unthinkable to family members of the Cooks' many victims.
"What person responsible for the murder of three people should ever walk our streets again?" an incredulous Steve Moulton asked.
In 1981, Steve Moulton's 21-year-old brother, Scott, was shot execution-style in the trunk of a car by Anthony Cook, who admitted raping Scott's co-worker, Denise Siotkowski, then forcing her into the trunk and shooting her multiple times as well.
Their murders were among a string of deadly night-time attacks on couples parked in cars and young women abducted off the street in 1980 and 1981 — a killing spree that finally ended on Oct. 14, 1981, when Toledo police arrested Anthony Cook.
Considered Toledo's most notorious serial killer, Anthony Cook would be convicted at trial in 1982 of attacking another couple in their car and then shooting to death the young woman's father, Ottawa Hills realtor Peter Sawicki, when he came to their aid.
Lucas County Prosecutor Julia Bates adjusts a photo hanging on the Lucas County Prosecutor's Office wall from the Cook brothers case in 2000 at the Lucas at the Lucas County Courthouse in Toledo on Monday, January 29, 2018.
But the brothers' confessions to the other brutal — and seemingly unsolvable — killings would not come for almost 20 more years.
"It was like kissing the devil," former Toledo police homicide detective Tom Ross recalled of the plea agreement reached with the Cook brothers in 2000. "Without it, you weren't going to get anything."
With it, prosecutors said, families of the victims of the Cooks' killing spree finally knew with certainty who murdered their loved ones.
"We could never prove the other cases," said Lucas County Prosecutor Julia Bates. "The DNA had disintegrated. Some cases didn't have DNA. There were no witnesses. There was no evidence. There was no confession. There were no fingerprints."
While investigators had long suspected Anthony Cook, they simply lacked the evidence to prosecute him. They also knew he had an accomplice in some of the killings, but again no evidence to prove it was his younger brother, Nathaniel.
In 1998, DNA finally gave prosecutors the break-through they needed to connect both brothers to the May 14, 1980, murder of Tom Gordon, and the rape and attempted murder of his girlfriend, Sandra Podgorski. Anthony was already serving a life sentence for Mr. Sawicki's murder at the time. Nathaniel was arrested Feb. 13, 1998.
Just days before the brothers were to go to trial for aggravated murder, though, Anthony Cook placed an offer on the table.
He and his brother would confess to all of the homicides they'd committed in Lucas County, take a polygraph to ensure their truthfulness and, in exchange, Nathaniel would be granted judicial release after serving just 20 years in prison.
Mrs. Bates said she agreed only after getting approval from relatives of the Cooks' victims.
"People say to me today, 'Why would you do it?'" she said. "We did it because we thought it was justice. Because 20 years was better than no years. It was punishment. It was closure, and that's so trite, but it was closure for those people that didn't know that maybe the person that killed their loved one was standing next to them in the grocery store."
Knowing the circumstances of each horrific murder, Mrs. Bates said she could not leave those parents without answers.
"It was something that needed a resolution and this was the resolution that we could agree to," Mrs. Bates said. "And while it's not perfect, it's better than no resolution. It's better than this dangling forever as to who did this, who's responsible for this. Because those people then had an answer that we know who did this and we know [the murderers] are being held accountable."
'Ugly stuff'
In videotaped interviews with detectives, Anthony Cook confessed to killing nine people, all in 1980 and 1981 with the exception of his first murder — 22-year-old Vicky Lynn Small, whom he abducted, raped, and shot to death Dec. 20, 1973.
Nathaniel Cook admitted to taking part in three of the murders with his brother — the shooting death of Tom Gordon, 24; the Jan. 17, 1981, murder of Connie Sue Thompson, 19, and the Feb. 21, 1981, beating death of Dawn Backes.
Nathaniel and Anthony Cook look over plea bargain paperwork during their sentencing at Lucas County Courthouse on April 6, 2000.
The Gesu School seventh-grader was walking home from a pizza parlor when Anthony Cook abducted her near the University of Toledo, picked up Nathaniel, and drove to the abandoned State Theater on Collingwood Boulevard. Both brothers sexually assaulted Miss Backes before striking her in the head with a cinder block, among other unspeakable acts.
The brothers said they abducted Ms. Thompson as she was walking along Cherry Street near Mercy Health St. Vincent Medical Center. They drove her into western Lucas County where they raped her, and Nathaniel strangled her with a piece of wire. Her body was left in a concrete culvert.
"I know it's ugly," Mr. Ross said. "It's ugly stuff, but we'd have never had any of it. We'd have never ever known. Today these would be unsolved homicides."
Relatives of the Cooks' victims are angry Nathaniel Cook, now 59, may soon be a free man despite their having consented to the plea agreement.
"Everyone thought 20 years was a long, long time," said Rodney Thompson, brother of murder victim Connie Sue Thompson. "Well, 20 years go by and now it's time for him to possibly ask the judge for judicial release, but it's beyond my thoughts that any judge would let this guy out. How could a judge let him out on probation?"
Steve Moulton said he had hoped that before Nathaniel's 20 years were up, police would find evidence to charge him with another homicide, possibly in another county or another state. Both of the brothers had worked as truck drivers.
"I'm not a gambler, but I would've bet money that they would have found something," Mr. Moulton said.
Prosecutor Julia Bates thanks the detectives who worked the Cook brother cases over the years during sentencing at Lucas County Courthouse on April 6, 2000.
"Nobody wants him out on the street," he said. "It's the deal we had to make back then, and 20 years ago we thought we'd never see this day. Now we're here. What do we do? Now what?"
Mr. Thompson said that in his mind, the plea agreement did not say that Nathaniel would get out in 20 years, but that he could ask to be released in 20 years.
The plea agreement seems quite clear.
It states that in exchange for Nathaniel's guilty pleas to attempted aggravated murder and two counts of kidnapping for the crimes against Tom Gordon and Sandra Podgorski as well as his full confession and polygraph, "The Court of Common Pleas in this case and any of its successors agrees and is bound to order my judicial release after my serving twenty full years incarceration which will conclude on February 13, 2018."
Judicial release
Legal wrangling over if, how, and when Nathaniel will be released has yet to play out in the courtroom.
Defense attorney Pete Rost said he would not file a motion seeking judicial release for Nathaniel before Tuesday, when his client completes his 20 years. Beyond that, he declined to comment on the process or the case. He said Nathaniel would not talk about it either.
Now-retired Lucas County Common Pleas Judge Charles Wittenberg signed the plea agreement April 6, 2000.
When Judge Linda Jennings was elected in 2006, she inherited Judge Wittenberg's caseload, including State v. Nathaniel Cook. She said she doesn't know whether she is bound by the agreement's terms, given she was not the judge who signed it.
"I'll have to do the research," Judge Jennings said, declining to say much more.
Under the sentencing laws in place at that time, Nathaniel Cook was ordered to serve between 21 and 75 years in prison.
The plea agreement states the Lucas County Prosecutor agrees not to oppose Nathaniel's motion for judicial release when his 20 years are up, and it seems to foreshadow the possibility of a new judge denying such a motion.
"Further, the State of Ohio, through the Lucas County Prosecutor and any of her successors, agrees not to oppose any motion or legal action I may take to vacate, void, or withdraw this plea should I not be released according to the terms and expectations of this agreement on or about February 13, 2018," the document states.
Judicial release is an order granted by a judge to terminate a defendant's prison sentence early. If granted judicial release, a defendant is placed on community control — meaning the court retains some supervision over the defendant and can send him back to prison if he violates the terms of his release.
Asked whether it would trouble her to be the judge who grants Nathaniel Cook's freedom, Judge Jennings, who is known for her tough sentences, thought a moment, then replied, "No comment."
It's never really over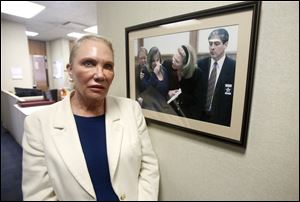 Lucas County Prosecutor Julia Bates poses in front of a photo hanging on the Lucas County Prosecutor's Office wall from the Cook brothers case in 2000 at the Lucas at the Lucas County Courthouse in Toledo on Monday, January 29, 2018.
Pam Henderson, the older sister of murder victim Scott Moulton, recalled accompanying her parents to the 2000 meeting with Mrs. Bates where the plea deal was outlined. Her brother's murder had gone unsolved for nearly 20 years, and Mrs. Bates was offering them answers.
"People say, how could you agree to 20 years [for Nathaniel Cook]? I said, 'First of all, you have to understand something: You're not standing in my shoes,'" Mrs. Henderson said.
She said she and her family felt that to some extent they didn't have a choice. They put their trust in the prosecutor's office.
"As a family we didn't like it, but I think we felt we had to accept it," Mrs. Henderson said. "They said, 'We don't ever want to see Anthony on the streets of Toledo again. This cures that. He's going to get life — no possibility of parole,' and again we thought that in 20 years they'll find something and Nathaniel will hopefully stay in."
She said Mrs. Bates wanted to give the families closure, but, as she has learned over the years, it's never really over.
Both of the Cooks routinely come up for parole hearings. Family members of their victims are notified and have the opportunity to voice their opposition to parole.
Nathaniel was to have a parole hearing last month, but he refused to cooperate — likely because he would be asking for judicial release in February — and his hearing was rescheduled for April.
If Nathaniel is granted judicial release, Mrs. Henderson said, she wants to know that he's being monitored. Her brother said he wants the court to classify Nathaniel as a sex offender who must register his address with the sheriff for the rest of his life so at least they will know where he lives.
"If Nathaniel gets out and does something, will anybody be surprised?" Mr. Moulton asked.
His sister wonders what effect his two decades behind bars has had.
"Has he had 20 years to say, 'Wow. What was I thinking? What did I do?' Or has he had 20 years to say, 'Wait till I get out'?" Mrs. Henderson wondered.
To her, the Cooks showed no remorse when they were in court in 2000.
"He's had 20 years to stew over it," Mrs. Henderson said. "I don't know. I don't know what's in his head."
No one does.
Mrs. Bates said police and prosecutors "can never prevent everything. Just like we couldn't prevent jets from flying into towers."
"I don't really have an answer because you can't see into somebody's soul," she said. "I can't say he'll be a good boy, but I can say that for 20 years after the Sawicki case we didn't have any record of him committing any crimes. We didn't have any record of him getting evicted from where he lived. We didn't have any record of him getting fired from his job. We never found any of that, which maybe means the brother was leading him down the pathway and he did bad things, but maybe he wouldn't have done bad things without the brother."
In his videotaped confession, Anthony Cook methodically described each of the murders, including his attack on Stacey Balonek and Daryle Cole, both 21, who were beaten to death and left in their car trunk on Aug. 2, 1981. Six weeks later, he killed Peter Sawicki near Ottawa Hills and has been locked up ever since.
Nathaniel sounded more hesitant in his interview, saying several times that he tried to forget the killings. He told Detective Ross he didn't know how he got involved with the crimes, and said he and his brother never talked about any of it.
"That was the thing," Nathaniel said. "I didn't want to remember. I didn't want to discuss. There was no glory in it for me. I don't know about him. To me, out of sight, out of mind. Stuff I don't want to remember."
Frank Stiles, who wrote a book about the Cooks titled Evil Brothers, worked the homicides as a Toledo police detective and, later, as an investigator for the prosecutor's office. No case has haunted him more.
Mr. Stiles said he feels strongly that Nathaniel did what he did because he idolized his older brother; that Nathaniel kept his nose clean while Anthony was serving prison time for crimes committed before the killing spree, and after Anthony's 1981 arrest for Peter Sawicki's murder.
Still, he said, "I really hate to see such a cold-blooded killer released. Although Nathaniel probably wouldn't have been a serial killer without the influence of his older brother, Tony, he was just as heartless as Tony during the rapes and murders he was involved in."
Contact Jennifer Feehan at: jfeehan@theblade.com or 419-213-2134.