Accused murderer of Reagan Tokes repeatedly violated terms of release
3/7/2018
COLUMBUS — The state of Ohio briefly appeared to be on trial Wednesday as a defense attorney for accused murderer Brian Lee Golsby challenged decisions by a supervisory system that allowed him to remain free despite repeated violations.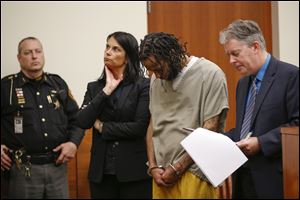 Brian Lee Golsby, center, stands with his attorneys Diane Menashe, second from left, and Kort Gatterdam, right, as Franklin County Prosecutor Ron O'Brien, not pictured, reads six of 18 counts against him during his arraignment hearing on April 3, 2017, at Franklin County Common Pleas Courthouse in Columbus.
Golsby, 30, was under high-level supervision after he was released from prison in November, 2016, after completing a sentence for attempted rape.
He had been cited for three low-severity violations of restrictions placed upon him after his release. He was under order to appear before a parole board hearing officer at the time he was arrested for the murder, kidnapping, and rape of Ohio State University senior Reagan Tokes, formerly of Monclova Township, on Feb. 8, 2017.
The prosecution called Roger Wicks, a senior parole officer, to the stand to establish that Golsby had been equipped with a satellite GPS ankle-monitoring device as a condition of his release.
But the defense used the moment before the jury to raise questions about whether the system may have played a role in what happened that night.
Mr. Wicks did not supervise Golsby. His parole officer, Ryan Hendrix, is currently in the military and unavailable to testify. Mr. Wicks noted parole officers have on average 90 to 100 offenders to supervise.
The GPS that Golsby was ordered to wear was not monitored in real time, but it collected data that could be retroactively used to see if he was complying with the conditions placed upon him.
Reviewing the file and Mr. Hendrix's notes, Mr. Wicks, a supervising officer, said that by mid-January Golsby had been sanctioned three times. He failed to keep the GPS device charged, and he was twice sanctioned for not staying at night where he was supposed to be.
The third violation triggered the required appearance before the parole board officer, the result of which could have sent him back to prison.
But he was arrested for Ms. Tokes' murder before the hearing could take place.
"So by this time, that's the third sanction that Mr. Golsby has had in a period of two months?" defense attorney Diane Menashe asked.
"Yes," Mr. Wicks responded.
"A high-level offender?" she asked.
"Yes, ma'am," he said.
Ms. Menache noted that there was no attempt to access the GPS data to check up on Golsby until after that third violation in late January.
"That technology is only as good as the parole officer makes it," she said.
A Cincinnati attorney has been attending the trial in anticipation of filing a lawsuit against the state on behalf of the Tokes family. The family has also lobbied state lawmakers for changes in state sentencing and parole law.
The prosecution plans to begin on Thursday to use the data collected by that unit to tie Golsby to key locations and times in the events of that night that led to Ms. Tokes' murder.
The prosecution theorizes that Ms. Tokes ran into Golsby at random as she walked to her car after leaving work at the Bodega Cafe, a restaurant south of campus. Over nearly three hours, she was kidnapped, raped, forced to withdraw $60 from a drive-through automated teller, and shot twice in the head. Her body was found the next day near the entrance of Scioto Grove Metro Park south of Columbus.
If convicted, he could face the death penalty.
Lisa McCrary-Tokes, Ms. Tokes' mother, said from home in Florida when reached by The Blade Wednesday that different family members have attended the trial at various times, holding up "as best as we can."
"Bottom line, the worst has already happened to us," she said. "Our daughter has been taken."
She added reliving the events surrounding her daughter's death is agonizing; "like ripping a Band-Aid off a festering wound." But she said family members have a strong support system that stretches across the country, and a family built on love.
"At the end of the day, that's the only thing that can't ever be taken from you. That and your faith," she said.
The designer purse that Ms. Tokes carried the night she was killed ended up in the possession of Hattisa Jackson, of Columbus, who testified that Golsby gave it to her just hours after Ms. Tokes had been murdered.
A wallet, lotion, and pepper spray were inside. Golsby also gave her $60, the same amount that Ms. Tokes withdrew at a drive-through automatic teller.
Although she believed the purse had been used and knew Golsby had been arrested for murder, she did not surrender the purse until police contacted her more than a week later. She also testified that she rode with Golsby in what she later identified as Ms. Tokes' car. She was one of several witnesses who put Golsby in possession of the car after the murder.
"It smelled like gasoline," she said. "He said he had one of those gas cans in the trunk."
Police believe that Golsby attempted to burn the car before it was recovered. An empty or near-empty gas can was still in the trunk.
Contact Jim Provance at jprovance@theblade.com or 614-221-0496.