WAUSEON — The jury pool in the capital murder trial for the man accused in the 2016 killing of a Metamora woman is down to 50 people and will be cut to the final 18 on Monday.
Once that group is selected, 12 jurors and six alternates will listen to testimony and evidence presented in the trial against James D. Worley in the abduction and killing of 20-year-old Sierah Joughin.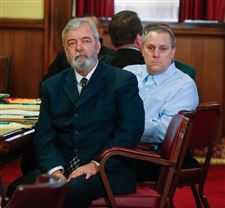 Attorney Mark Berling, left, and defendant James Worley appear on the first day of jury selection in Fulton County Common Pleas Court on Monday.
The Blade/Jetta Fraser
Enlarge | Buy This Image
After nearly a week of inquiries about potential jurors' family backgrounds, media consumption, and opinions on the death penalty, Fulton County Common Pleas Judge Jeffrey Robinson and attorneys for both sides wrapped for the week on Thursday evening.
Because both counts of aggravated murder that Worley faces have death penalty specifications, the issue of capital punishment was thoroughly discussed.
Judge Robinson asked jurors if they "understand that your conscientious, religious or other objections to the death penalty are not necessarily grounds for you to be a juror."
"Are you religiously, morally or otherwise opposed to the death penalty?" he asked jurors Thursday. "Do you believe the death penalty should be the penalty in every case where murder has been committed?"
VIDEO: WTOL report on James Worley jury selection
Jurors were dismissed if they said their views on the death penalty — either for or against — would prevent them from following the judge's instructions regarding how to consider possible sentences.
Others were dismissed earlier in the week if they had financial or personal conflicts, or it was determined that their existing opinions about Worley's guilt or innocence would prevent them from being impartial.
Worley, 58, of rural Delta, is accused of kidnapping and killing Joughin after she disappeared on a bike ride July 19, 2016. Her remains were found several days later in a shallow grave in a cornfield. An autopsy revealed she had been asphyxiated.
Worley is charged with two counts of aggravated murder — both with death-penalty specifications — as well as four counts of kidnapping, two counts each of murder, abduction, felonious assault, and having weapons while under disability, and one count each of possessing criminal tools, gross abuse of a corpse, and tampering with evidence.
Contact Lauren Lindstrom at llindstrom@theblade.com, 419-724-6154, or on Twitter @lelindstrom.
Guidelines: Please keep your comments smart and civil. Don't attack other readers personally, and keep your language decent. Comments that violate these standards, or our privacy statement or visitor's agreement, are subject to being removed and commenters are subject to being banned. To post comments, you must be a registered user on toledoblade.com. To find out more, please visit the FAQ.