Nathaniel Cook to be evaluated at diagnostic and treatment center
3/8/2018
Convicted killer Nathaniel Cook leaves Lucas County Common Pleas Court Thursday in Toledo. Cook appeared at a hearing to determine whether Cook should be referred to Court Diagnostic and Treatment Center for a sex offender evaluation.
The Blade/Dave Zapotosky
Buy This Image
Nathaniel Cook on March 1, 2018.
Nathaniel Cook took a long look at the row of faces watching him as he was led into a Lucas County courtroom Thursday for the first time since April 6, 2000.
Cook, 59, who confessed to three murders but went to prison for his role in just one, is seeking his freedom. Those gathered in the courtroom are deeply opposed.
"I just hope he stays right where he's at," said Sandra Podgorski-Rollins, who was abducted, raped, and nearly stabbed to death by Cook and his brother, Anthony, in 1980.
It was DNA from the attack on her and her boyfriend, Tom Gordon, who was shot to death, that finally led to the indictment of Nathaniel and his older brother, Anthony, in 1998. The two were awaiting trial in the case in April, 2000, when they made a deal with prosecutors that would clear up a series of deadly attacks on couples parked in cars and young women walking down the street.
In exchange for their full confessions to the homicides they'd committed in Lucas County, Nathaniel Cook pleaded guilty to attempted aggravated murder and two counts of kidnapping and was promised freedom after 20 years behind bars. Anthony pleaded guilty to aggravated murder and would remain in prison for life.
At a brief, four-minute hearing Thursday, Common Pleas Judge Linda Jennings referred Nathaniel Cook to the Court Diagnostic and Treatment Center for an evaluation to determine how he should be classified under the sex offender law that applied at the time.
Jeff Lingo, chief of the criminal division for the Lucas County Prosecutor's Office, said that if Cook is determined to be a sexual predator, he will have to register his address with the county sheriff every 90 days for the rest of his life.
Judge Jennings set a further hearing on the matter for 2 p.m. April 19 and ordered that Cook remain in the Lucas County jail in the meantime.
VIDEO: Prosecutor Jeff Lingo explains what happened during a brief hearing
The white-bearded Cook made no statements in court but talked with his attorneys, Pete Rost and Sam Kaplan, prior to the hearing. His plea agreement stated that he was to receive judicial release on or about Feb. 13, 2018, and his attorneys filed a motion for his release on Feb. 15.
Mr. Kaplan asked Judge Jennings whether she intended to address that motion on April 19. The judge responded that she wanted to "see what the evaluation says" before determining how to go forward.
Mr. Kaplan also told the court that the defense intended to include a transcript from the Cook brothers' April 6, 2000 plea and sentencing hearing as a supplement to the motion for release.
While relatives of the victims of the Cooks' crimes say they do not want Nathaniel Cook to be released, Lucas County Prosecutor Julia Bates has said she only gave her approval to the plea deal after conferring with the victims' family members.
In many of the cases, the homicides had gone unsolved for decades. While the Cooks had been suspects, investigators did not have enough evidence to charge them with the killings, which occurred primarily in 1980 and 1981.
Anthony Cook confessed to killing nine people. Nathaniel Cook admitted to being involved in three of the murders: Tom Gordon, 24, whom Nathaniel fatally shot; Connie Sue Thompson, 19, whom Nathaniel strangled with a wire; and Dawn Backes, 12, who died after Nathaniel dropped a cinder block on her head.
Steve Moulton, whose younger brother, Scott, was murdered by Anthony Cook in 1981, said after Thursday's hearing that he sent a letter to Judge Jennings asking for a long list of conditions to be placed on Nathaniel Cook if he is released.
"I think letter-writing is all we can do right now," Mr. Moulton said. "I think the judge has a good grip on this. If there's anything she can do to keep him behind bars, she will."
At the 2000 plea hearing presided over by now-retired Judge Charles Wittenberg, the judge asked Walter Gordon, brother of murder victim Tom Gordon, whether the prosecutor's office discussed the plea agreement with him ahead of time.
"Yes, they did, and I totally agree," Mr. Gordon responded at the time.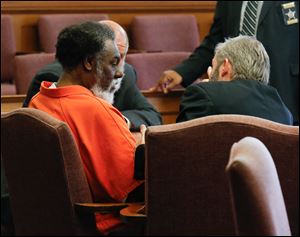 Convicted killer Nathaniel Cook huddles with attorneys Pete Rost and Sam Kaplan in Lucas County Common Pleas Court in Toledo.
Among the other victims who addressed the court that day, Ms. Podgorski-Rollins said she forgave the Cooks.
"I couldn't live with myself if I carried the hatred that you have carried for so long," she said.
"These violent acts of crime you have introduced into my life are burned into my mind, my heart, and my soul," she said. "This is something that you just don't let go."
According to a transcript of the hearing, Judge Wittenberg said the Cooks had committed "unspeakable acts" and "created an atmosphere of fear and terror in the community."
"While there may be critics of plea bargaining, especially in a murder case, the interests of justice are better served in this case with the resolution that has been reached rather than by proceeding by trial, and there are several reason for that," the judge said.
The plea deal enabled prosecutors to clear up a string of unsolved homicides; families finally received answers about who killed their loved ones. Judge Wittenberg said having a trial in the murder of Mr. Gordon would have been challenging given that 20 years had gone by, memories faded, evidence compromised.
"After hearing the emotional outpouring of grief and suffering from the victims' families — and these emotions still run strong after 20 years — these defendants, these individuals here, show no remorse and no contrition for what they did," Judge Wittenberg said. "Now, one of them will never see freedom again and the other will be 60 years old before he can walk the streets."
Contact Jennifer Feehan at jfeehan@theblade.com or 419-213-2134.