Opponents of Toledo's lead-safe rental law scored a win Friday when a Lucas County judge granted a preliminary injunction halting enforcement two weeks before the first compliance deadline of June 30.
Lucas County Common Pleas Judge Linda Jennings ruled on the injunction Friday morning in the lawsuit filed by Toledo landlord Cheryl Mack and the Toledo Property Investors Network.
The plaintiffs contend the law — which compels landlords to mitigate toxic lead hazards in some older rental homes — is unconstitutional and the Toledo-Lucas County Health Department, the entity tasked with enforcing the city's law, does not have the authority to do so.
"This is what we expected from the very beginning," said Andrew Mayle, attorney for the plaintiffs. "The first time I looked at this ordinance I found it to be subject to attack, so it's no surprise."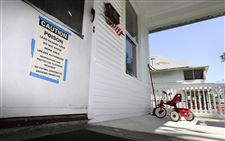 A lead hazard sign is posted on a home on Putnam Street in Toledo.
THE BLADE
Enlarge | Buy This Image
RELATED CONTENT: City officials warn landlords as lead-law deadline looms ■ Confusion and panic as tenants fear ousting for lead law ■ Ludeman plans to reintroduce Toledo lead legislation
He added he has "no doubt" Judge Jennings will rule in their favor in the case's final outcome. The decision came after more than an hour of arguments and a brief recess while Judge Jennings deliberated.
"We respect the court's ruling and are going to discuss the matter with our client to figure out the city's next move," said Joe McNamara, a city attorney.
The judge said she would make her final decision on the case "in the very near future." She said the plaintiffs had established "the likelihood of their success on the merits of their claims" against the defense.
The law, passed by Toledo City Council in 2016, requires rental properties with one to four units and home daycare centers built before 1978 be inspected and tested for lead hazards. An amended version of the law passed in 2017 divided properties by census tracts and staggered compliance deadlines over three years — with those that pose the highest risk for children facing the earliest deadline.
It would have imposed fines of $50 per day up to $10,000 for tenant-occupied properties out of compliance by the first deadline of June 30.
Health Commissioner Eric Zgodzinski said the program is suspended, including registrations, education, and enforcement. Notices on the health department's website and social media accounts announced the change. Any registration or fees received going forward will be returned, he said.
The order to halt enforcement is the latest in a more than two-year saga of debate and challenges to the controversial law.
In recent weeks, proponents of the law have reiterated their commitment to enforcement and warned landlords of their plans to use a collections agency and housing court to collect fines from those who do not comply.
A vocal group of landlords and tenants have criticized the law from the beginning, calling it financially onerous and discriminatory toward owners of smaller rental units over large complexes.
Compliance rates have been low, one indicator of the landlord community's opposition or confusion around the law. As of Thursday afternoon, there were 1,252 registrations for properties under the first deadline — or 10 percent out of an estimated 12,500 required to do so.
Andrew Fidler, vice president of the Property Investors Network, said he was pleased with the ruling and admonished Toledo City Council for its "blatant refusal to have discussion and forward motion" when met with concerns about the law's adverse effects on landlords and tenants.
"There was no capitulation, there was no negotiation, there were no options for finding solutions," he said, adding that responsible real estate agents, landlords, and property managers like himself are "not the problem in this city."
"Anyone who is not going to comply with the ordinance and is a poor, unsafe landlord, is ignoring the entire process because they never intended to comply from the beginning," he said.
In a statement Friday, Toledo Mayor Wade Kapszukiewicz said his administration will continue to work with city council, the health department, and Toledo Lead Poisoning Prevention Coalition "to ensure the city of Toledo safeguards children from lead poisoning and gets this correct."
"Everyone can agree that there is nothing more important than the safety of our children, and it was that sentiment that motivated the passage of this ordinance," Mr. Kapszukiewicz said. "We cannot ignore how difficult it has been to enforce. While this ordinance is on hold, the city law department will evaluate our legal options."
State Rep. Derek Merrin (R., Monclova Township) is a critic of the law and rental property owner in Toledo who unsuccessfully tried to attach an amendment to the state budget last year that would give all lead-related authority to the state to potentially usurp Toledo's local control. He lauded Judge Jennings' decision Friday.
"Every day it's becoming clearer Toledo's lead law is the product of legal and legislative malpractice," he said in a written statement. "The law is unworkable and illegal. It's time for Toledo City Council to admit their error and reverse course."
Mr. Zgodzinski said the ruling puts the city back to where it was years ago before the law was passed but said his department is committed to a law that protects the city's children.
"We're on hold. We don't know where this is going to go, so we need to figure out how we progress from here," he said. "It's probably going to be a lengthy process to get to where we want to be, but it goes back to doing what we want to do for our kids to keep them safe."
Councilman Larry Sykes, a longtime supporter of the law, declined to comment.
Councilman Peter Ujvagi, also a proponent of the law, said he was disappointed in Friday's ruling.
"If there is a point of frustration, it's that all of this is at the last minute," he said, noting provisions in the amendment to extend deadlines and create hardship provisions for owners who can't afford to do required work. "We provided significant additional time and opportunity for folks who are in the situation where they can't meet the law."
Contact Lauren Lindstrom at llindstrom@theblade.com, 419-724-6154, or on Twitter @lelindstrom.
Guidelines: Please keep your comments smart and civil. Don't attack other readers personally, and keep your language decent. Comments that violate these standards, or our privacy statement or visitor's agreement, are subject to being removed and commenters are subject to being banned. To post comments, you must be a registered user on toledoblade.com. To find out more, please visit the FAQ.