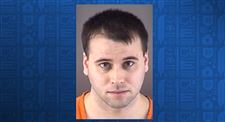 Jay. V. Caldwell
BOWLING GREEN — A former Troy Township firefighter who was accused of sexual misconduct with teenage girls involved in the department's Junior Explorer Program was indicted this week on new charges.
Jay V. Caldwell, 26, of Luckey, Ohio, was indicted for kidnapping, gross sexual imposition, engaging in a pattern of corrupt activity, and two counts each of complicity to rape and complicity to gross sexual imposition.
In May, Wood County Common Pleas Judge Reeve Kelsey dismissed 12 of the 18 charges Mr. Caldwell was first indicted on last year including three counts of rape, saying the indictment contained overly broad timeframes and inconsistent facts.
Guidelines: Please keep your comments smart and civil. Don't attack other readers personally, and keep your language decent. Comments that violate these standards, or our privacy statement or visitor's agreement, are subject to being removed and commenters are subject to being banned. To post comments, you must be a registered user on toledoblade.com. To find out more, please visit the FAQ.