Opening statements heard in 2011 cold case
8/27/2018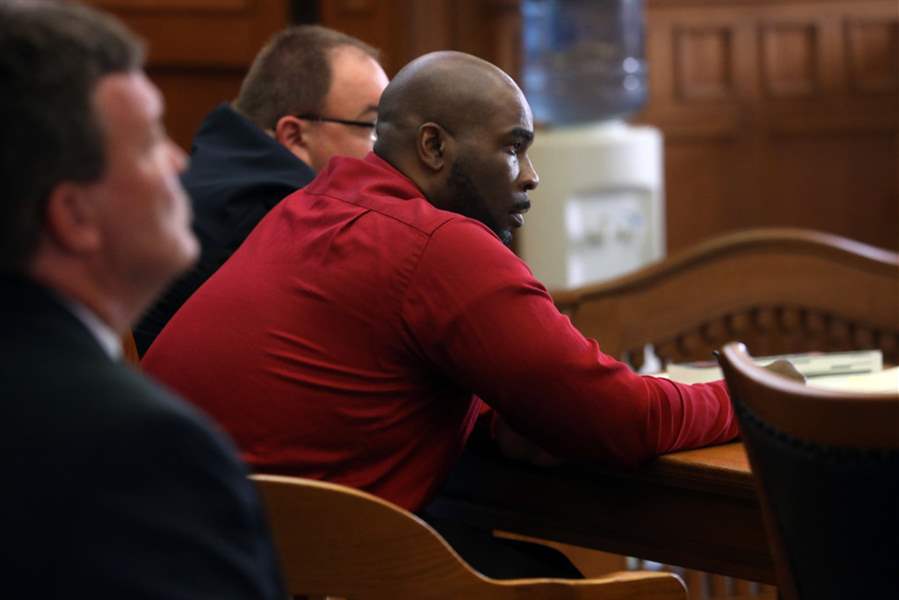 Robert Mathis II sits at the defense table during opening statements in his trial for aggravated murder and murder in the 2011 death of his ex-girlfriend, Jennifer Molnar, in Lucas County Courthouse on Monday.
THE BLADE/AMY E. VOIGT
Buy This Image
Jennifer Molnar endured a systematic and prolonged beating at the hands of her former boyfriend in June, 2011, assistant county prosecutor Michael Bahner told a jury during opening statements Monday in her accused killer's trial.
Ms. Molnar didn't die instantly. She suffered as Robert Mathis II, 42, beat her, Mr. Bahner said. Now Mathis is standing trial, accused of committing a murder that remained unsolved for seven years.
A jury was selected Monday in the case of Mathis, of the 2700 block of Scottwod Avenue. He is charged with aggravated murder and murder for the death of his former girlfriend in June, 2011.
In 2016, cold-case investigators reopened Ms. Molnar's case and analyzed the victim's cell phone, text messages, and correspondence she had with Mathis while he was in prison.
The jury saw a photo Monday of Ms. Molnar's bloodied body lying on an air mattress in a house in the 1500 block of Kedron Street. Her hair was wet and there were bruises on her arms and legs.
Ms. Molnar suffered from multiple instances of blunt force trauma and she also had internal bleeding, Mr. Bahner told the jury.
Patterns on her body indicate she may have been whipped and beaten with a hammer belonging to Mathis, he said. The incident was "nothing short of prior calculation and design because you don't plan to do that unless you plan to kill somebody," Mr. Bahner said.
Mathis looked down, gently shaking his head at the prosecutor's words.
The couple had a turbulent relationship and letters and text messages indicate Ms. Molnar was afraid of her boyfriend, prosecutors say. In 2009, he was indicted for felonious assault, rape, and two counts of kidnapping after Ms. Molnar said he assaulted her, but those charges were dropped at Ms. Molnar's request.
The defense said Mathis had "cooled off" and the couple were working on their relationship. Mathis' attorney Drew Griffith asked the jury Monday to examine the 2011 incident alone.
Mathis previously told investigators he arrived at his East Toledo residence on June 8, 2011, and attempted to turn on the sink, but there was no water pressure. When he went to the hot water tank, he found Ms. Molnar's body.
During a 911 call, Mathis told a dispatcher the couple were previously arguing and he thought she left. He also indicated she was using cocaine and Xanax, according to the recording.
Mathis carried her body and placed her on an air mattress.
Investigators found DNA under Ms. Molnar's fingernails, but the defense said it was indicative of a couple in an intimate relationship.
In 2011, Mathis agreed to a search of his residence and he was interviewed by police and no charges were filed. At the time, there were no signs of a fight on his body, Mr. Griffith said.
Testimony is scheduled to continue Tuesday in Lucas County Common Pleas Judge Michael Goulding's courtroom.
Contact Allison Dunn at adunn@theblade.com, 419-724-6506 or on Twitter @AllisonDBlade.