Four indicted for shorting tax payments from vehicle sales
8/31/2018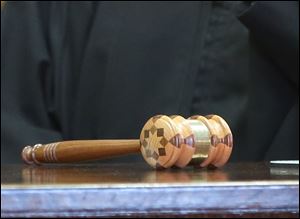 Four people were indicted by a Lucas County grand jury Thursday on charges of shorting the state on sales taxes from vehicle sales.
Steven Hanson, also known as Parker Hanson, and his wife, Cathy Hanson, both of Waterville, and Daphne Drazic and Brian Pietz, both of Toledo, each face charges of tampering with records and failure to remit sales tax, along with one count of engaging in a pattern of corrupt activity.
The Hanson couple is also charged with multiple counts of forgery, while Mr. Hason, Ms. Drazic, and Mr. Pietz are also charged with grand theft.
The scheme is said to have happened between June, 2010, and April, 2016, according to court records.
The indictments related to a "mom and pop" auto dealership in the 5700 block of West Central Avenue that is no longer open, said assistant county prosecutor Louis Kountouris. The group was involved in the sale of automobile transactions, and they allegedly used different names while selling the vehicles, he said.
Mr. Hanson is accused of being the ringleader, while his wife allegedly forged titles and altered Social Security numbers in documents, Mr. Kountouris said. Ms. Drazic was the operation's executive assistant and Mr. Pietz also did business with the group, the prosecutor said.
During an unrelated search of Mr. Hanson's home approximately two years ago, investigators located several bills of sale for vehicles. The bill of sale would include one price, but the application for the title was a lesser amount, Mr. Kountouris said.
"The difference was being retained by the seller without the money going to the state," he said.
The estimated amount of under-reported taxes is approximately $50,000.